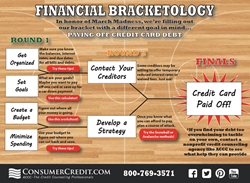 With ACCC's 'Financial Bracketology' guide, consumers will be able to improve money management strategies not just for March, but for long-term financial stability and lower credit card debt for the entire year.
(PRWEB) March 24, 2014
In honor of March Madness, national nonprofit American Consumer Credit Counseling announced the release of its "Financial Bracketology" – an interactive guide to help consumers pay down credit card debt. The bracket challenges consumers to complete an easy-to-follow step-by-step plan to pay off a credit card and begin a healthy financial future.
"Credit card debt is holding fairly steady in the United States and is the third largest source of household indebtedness only behind mortgage and student loan debt," stated Steve Trumble, President and CEO of American Consumer Credit Counseling. "With ACCC's 'Financial Bracketology' guide, consumers will be able to improve money management strategies not just for March, but for long-term financial stability and lower credit card debt for the entire year."
The average household credit card debt in the United States tops $15,252 with American consumers owing a total of $11.52 trillion – an increase of 1.6 percent from last year. For those consumers faced with significant debt loads, follow ACCC's "Financial Bracketology" infographic to help get back on track to financial security.
Begin with round 1:

Get organized. Consumers need to ensure they know the balances, interest rates, and due dates for all bills and debts.
Set goals. Consumers should know and understand what their financial goals are - is it paying off one credit card or saving up for a car down payment. ACCC's calculator can help determine how much to set aside on an ongoing basis in order to meet that goal.
Create a budget to help determine where monthly income is allocated. Consumers can access ACCC's Household Budgeting Worksheet to help with this process. Once a budget has been created, consumers should be committed to that plan to ensure that additional debt is not incurred.
Minimize spending. Use a budget to figure out where savings and cutbacks can be made. In the end this will help to develop better spending habits.
Once these steps are completed, it is time to transition to Round 2!

Contact creditors. Some creditors may be willing to offer temporary reduced interest rates or waived fees. Just ask!
Develop a strategy. There are various repayment strategies for credit relief such as the snowball method and the avalanche method. ACCC provides a comparative chart to help identify which method is best for a given consumer's situation.
"Consumers need to remember that this is a first step in tackling debt," added Trumble. "Completing the bracket will help to develop financial stability and develop sound budgeting techniques that will ultimately translate into beneficial long-term habits."
ACCC is a 501(c)3 organization, that provides free credit counseling, bankruptcy counseling, and housing counseling to consumers nationwide in need of financial literacy education and money management. For more information, contact ACCC:
For credit counseling, call 800-769-3571
For bankruptcy counseling. call 866-826-6924
For housing counseling, call 866-826-7180
Or visit us online at ConsumerCredit.com
About American Consumer Credit Counseling
American Consumer Credit Counseling (ACCC) is a nonprofit credit counseling 501(c)(3) organization dedicated to empowering consumers to achieve financial management and debt relief through education, credit counseling, and debt management solutions. In order to help consumers reach their goal of debt relief, ACCC provides a range of free consumer personal finance resources on a variety of topics including budgeting, credit and debt management, student loans, homeownership, identity theft, senior living and retirement. Consumers can use ACCC's worksheets, videos, calculators, and blog articles to make the best possible decisions regarding their financial future. ACCC holds an A+ rating with the Better Business Bureau and is a member of the Association of Independent Consumer Credit Counseling Agencies. For more information or to access free financial education resources, log on to ConsumerCredit.com or visit TalkingCentsBlog.com.
###