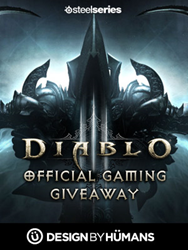 Chico, California (PRWEB) March 21, 2014
To celebrate Blizzard Entertainment's latest creation, Diablo 3: Reaper of Souls, Design By Humans (DBH) has partnered with premium gaming peripheral manufacturer SteelSeries for a massive giveaway. Three lucky winners will receive prize packs featuring limited edition Diablo III Tees from DBH and premium Diablo III peripherals from SteelSeries, including their new Reaper of Souls Edition Mousepad. Participants can enter the contest at http://www.designbyhumans.com/dbh-giveaway. Winners will be announced March 26th.
The First Place Winner will receive a Limited Edition Diablo 3 t-shirt and 2 Tees of their Choice from Design By Humans. They will also receive the brand-new Reaper Of Souls Edition Mousepad, Diablo III Mouse, and Diablo III Headest from SteelSeries
The Second Place Winner will receive a Limited Edition Diablo 3 t-shirt and 1 Tee of their Choice from Design By Humans. They will also receive a brand-new Reaper Of Souls Edition Mousepad and Diablo III Headset from SteelSeries
The Third Place Winner will receive a Limited Edition Diablo 3 t-shirt from Design By Humans and a Brand-New Reaper Of Souls Edition Mousepad and Diablo III Mouse from SteelSeries
Limited Edition Diablo III T-Shirts from DBH were designed for their Diablo III T-Shirt design contest held in August of 2013. Each Diablo III T-shirt is a limited edition design created by an international artist that won the contest. To learn more about the Diablo III T-shirt Design Contest and see all the winners, visit us here.
About Design By Humans
Embedded in the culture of Design By Humans is a passion for brilliantly designed tees, detailed illustration and a strong appreciation for all things creative. Free of restraints and inspired by creativity, we empower artists by giving them a voice and a platform to amplify their art to the world. Design By Humans was started in 2007 with the simple vision of bringing artists together from around the world. Through our DBH Collective initiative, we've emboldened and inspired artists by giving them a foundation to produce wearable art that tells a story, strengthens humanity and inspires life through creativity and design through a personal online storefront.
Design By Humans is committed to making the highest quality apparel in the marketplace, which is why every garment that we craft is hand selected and printed in California using environmentally friendly phthalate free or water-based inks whenever possible. Design By Humans only uses t-shirt blanks that are guaranteed to be sweatshop and child labor free. Phone Cases and Art Prints have been recently added to the already outstanding list of products offered by DBH. Visit us at designbyhumans.com to see the latest designs.
About SteelSeries
SteelSeries is a leading manufacturer of top quality gaming peripherals from headsets, keyboards and mice to controllers, surfaces and software. For more than a decade, SteelSeries has been on the forefront of designing and creating gear for gamers. The company's continued innovation also comes in collaboration with the world's leading professional gaming teams and partners. SteelSeries is a global brand that continues to support the growth of competitive gaming tournaments and electronic sports leagues through professional team sponsorships, partnerships and community support. For more information, please visit http://steelseri.es.
###
If you'd like more information about this topic, please call +855 333 9836 x 302 or email press(at)designbyhumans(dot)com.
For SteelSeries PR:
Tori Pugliese
203-605-4028
tori(at)steelseries(dot)com
Travis Hezel
908-798-7868
travis(at)steelseries(dot)com