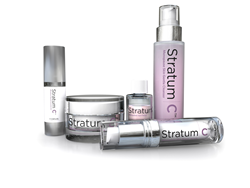 Stratum C™ contains as little as 18% water, meaning that they contain larger quantities of active ingredients that are proven to deliver long-term collagen growth and wrinkle reducing properties.
(PRWEB UK) 24 March 2014
Stratum C™ is fast becoming the leader in the science of menopausal skin. Since their launch in September 2013, the market has seen new emerging brands to this category, however Stratum C™ continues to lead the way in developing high quality scientifically proven products to cater for the specialist area of menopause and its effects on the skin. Within days of their launch Stratum C™ was featured in the headlines of The Daily Mail and many other national publications as a must-have brand for 2013. UK-based Forme Laboratories are pleased to announce the launch of three brand new products that extend the innovative Stratum C™ range (http://www.stratumc.com).
Stratum C™ products have been scientifically developed following groundbreaking research at the University of Reading. The core protect cream and repair serum include a special combination of peptides – chains of amino acids that are the building blocks of proteins in the skin – including Matrixyl®, a wrinkle-reducing pentapeptide. It also contains several times the amount of Matrixyl® than conventional high street creams and the optimum amount described by latest research.
Professor Ian Hamley who conducted the research at the University of Reading explains:
"One of the active ingredients in Stratum C has been shown, in studies that I carried out, to increase the production of collagen by skin cells by up to 70%. This is especially important for women going through menopause, which has been shown to suppress the body's natural collagen production leading to premature ageing of the skin."
The breakthrough technology used to combat wrinkles and boost collagen production has made the product a must-have for celebrity interior designer and household favourite, Linda Barker amongst others.
As the ageing process accelerates during menopause, the skin changes and this causes fine lines and wrinkles to form. The skin is less able to retain water, and collagen production; which gives our skin its thickness and suppleness; decreases. Traditional anti-aging creams can contain as much as 90% water, with minimal quantities of active ingredients making them ineffective for menopausal skin. Stratum C™ contains as little as 18% water, meaning that they contain larger quantities of active ingredients that are proven to deliver long-term collagen growth and wrinkle reducing properties.
In addition to collagen-stimulating ingredients, Stratum C™ repair cream contains hyaluronic acid and Squalane for intensive hydration and moisturising, and a muscle-tightening ingredient, which during clinical trials, has been shown to reduce existing deep wrinkles by 45% in just one month.
Women experiencing menopause will recognize the uncomfortable symptoms that develop, including dry, itchy and less supple skin caused by the ageing process that is accelerated during this period. Where the flagship Protect Cream and Repair Serum work in assisting the body in producing more collagen, women can now also enjoy a full supportive skin-care regime with the new Gentle Cleanser, Pigment Correction Gel and Spot Relief products.
Alongside the loss of collagen, the skin becomes more sensitive and drier during menopause. The Stratum C™ Menopause Gentle Cleanser is a non-greasy superlight gel that foams easily to remove dirt and skin impurities. It combines excellent cleansing properties with gentle ingredients that help rejuvenate and improve the skin's tone and elasticity. Using rose hip seed oil, it contains a powerful source of Vitamin A, C and E that are lost during menopause. It also contains Irish moss seaweed (also found in the serum) that moisturises and hydrates.
But it's not just wrinkles and skin ageing that is caused by menopause. The development of dark, age or liver spots (hyperpigmentation) is impacted by the levels of melanin in the skin controlled by an enzyme called tyrosinase. The Stratum C™ Menopause Correction Gel moisturises and reduces existing age spots and works to prevent further spots forming. Based on Vitamin C, it inhibits the creation of melanin combined with the natural extracts from Daisy and Olive leaves. Forme Laboratories have also combined these ingredients with hyaluron to protect the skin and improve hydration.
Interestingly, menopause also creates the same hormonal imbalance seen in teenage years and so acne can rear its ugly head. Many products on the market can contain aggressive drying agents to remove oil and grease but end up removing essential oils and nutrients that thinning menopausal skin needs. The Stratum C Menopause Spot Relief is a breakthrough powerful overnight lotion that combines salicylic acid with sulphur and zinc oxide. The sulphur stabilises the skin's PH level reducing acidity and inflammation whilst the zinc oxide helps to regulate swelling and redness in the skin. To apply you dab it directly on to the head of the spot using a cotton bud before bedtime and by morning the spot will be gone (or much reduced) whilst the rest of skin is unaffected.
Tim Clover, CEO of Forme Laboratories, states:
"The launch of our repair cream and serum was extremely successful and we saw the demand in women desperately looking for solutions to the uncomfortable effects the menopause has on the skin. We are thrilled to extend to a fuller range, offering women a skincare regime that not only targets the problems caused by menopause but high-end products that can leave skin radiant. Menopause is a time during which skin needs the most help. For an average of five years the skin goes through temporary changes, and Stratum C™ products are specifically tailored for this. With two million women in the UK going through the menopause each year, this is a very small market for large skincare companies. Stratum C™ is a unique range that delivers a solution to keep your skin looking beautiful and protected."
Stratum C™ products start at £19 and are available to buy from http://www.stratumc.com and leading dermatology / skin clinics.
For media enquiries please contact Kate Chaundy of Cacique PR on 0207 250 4750 / kchaundy (at) caciquepr (dot) com.
ENDS
About Forme Laboratories
Forme Laboratories are specialists in dermatology and are based in Surrey. They specialise in developing dermatology products for specific needs, such as their flagship product Stratum C™ (http://www.stratumc.com), the first skincare product to be scientifically created specifically for the menopausal skin, boosting collagen production and counteracting the effects of menopause on the skin.
Matrixyl® is a registered trademark of Sederma SAS. Forme™ and StratumC™ are trademarks of Forme Labs Ltd.