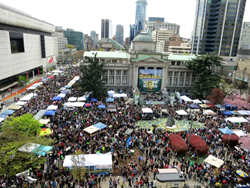 ..entry to the US can be denied if a person has a criminal record that involves narcotics of any kind, including marijuana..
(PRWEB) March 26, 2014
With 4/20 approaching, thousands of Canadians are thinking of taking part in this international day of cannabis event on Sunday April 20, 2014. Although the practice is largely tolerated on this date, it is still technically against the law and a criminal record because of marijuana can affect travel plans, especially to the United States.
Although the process of legalizing the use of marijuana in the US is well under way in many states, federally it is still illegal. According to Azmairnin Jadavji, President of Pardon Services Canada, "entry to the US can be denied if a person has a criminal record that involves narcotics of any kind, including marijuana". He states, "even admitting marijuana use to a border officer will result in being denied entry". It's important to know that attempting an illegal entry can result in being jailed and that property can be confiscated.
To enter the United States legally it is essential to obtain a US entry waiver. Apply at least one year prior to an anticipated travel date to ensure border crossing will not be an issue, since obtaining a US entry waiver requires extensive paperwork. The documentation required includes a certified copy of both the criminal record and court documents, letters of reference, verification of employment, and a drug test if the offence was narcotic related. A statement explaining the circumstances of each arrest and conviction, along with any evidence or explanation of reform such as counselling or completed rehabilitation programs, marital status and community service are also required.
Generally, first time waiver applicants receive a US entry waiver valid for a period of one year. The Department of Homeland Security can grant a waiver valid for up to 5 years allowing multiple entries.
Don't attempt to enter the US without an entry waiver. People might think that the process is too much of a hassle and that they will take a chance or will be able to outsmart the officers at the US border. However, doing this can jeopardize the ability to travel into the US forever. Those who protect the US border are adept at determining if someone is lying or trying to hide their past. Denied entries are updated instantly in a national database so there are records of any illegal attempts to cross into the US. Having a US waiver supersedes the authority that the border guards have in preventing a person with a criminal record from entering the US.
If people have questions or concerns, are overwhelmed by the prospect of having to accumulate all the necessary documents, or simply want the peace of mind of professionals expediting the US Entry Waiver process, contact Pardon Services Canada.
About Pardon Services Canada
An industry leader helping Canadians overcome the obstacles of a criminal record. Since 1989, Pardon Services Canada has successfully assisted over 100,000 Canadians exercise their lawful rights under the Criminal Records Act of Canada and the Immigration and Nationality Act of the United States. Services include US entry waivers, record suspensions (formerly called pardons), and fingerprinting. Offices are located in Vancouver, Calgary, Toronto, Edmonton, Ottawa and Montreal. Call toll free 1-866-972-7366 or visit the website Pardon Services Canada