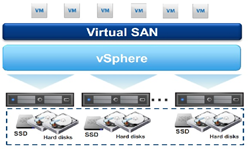 vSAN runs on commodity servers, greatly reducing your CTO and improves your Return on Investment.
Denver, CO (PRWEB) March 21, 2014
VMware's 2014 Partner Exchange was an exciting week full of information about both new and improved technologies. The Zunesis team who attended the conference came back to Denver with their minds set on one thing: getting the word about vSAN out to customers.
See below for a brief explanation of what vSAN is and how it can help your business. If this whets your appetite, please plan to join us for breakfast and a more in-depth look at vSAN on Monday, April 7th.
Click here for details and to register for the April 7th breakfast.
VMware vSAN:
VMware vSAN is a Hypervisor-converged storage solution ideal for End User Computing, Test/Dev, and tier 2 and tier 3 applications and disaster recovery. It offers Server-side SSD Read/Write caching (640K IOPs), built in fault tolerance, and scales up to 4.4PB in a 32 host cluster.
vSAN is an additional per CPU license. Three options are available today, those are Virtual SAN, Virtual SAN with Data Protection (vSphere Data Protection Advanced™), and Virtual SAN for Desktop. It is currently supported in vSphere 5.5U1 and above – any edition.
vSAN for Desktop is priced at $500 for a 10 seat, and $5000 for 100 seat bundles. This, coupled with the price of commodity disks, will make Horizon View deployments more attractive by significantly lowering the storage cost per VM.
vSAN offers a complete storage and backup solution for your VMware environment. With the addition of vSphere Data Protection, you will finally be able to move your DR plan forward without breaking the budget.