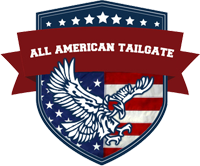 Orlando, FL (PRWEB) March 25, 2014
Custom Tailgate Inc., a manufacturer and retailer of custom tailgate tables, has recently rebranded themselves with a new corporate label - "All American Tailgate." The company has launched an effort to better serve their American customers, who remain their strongest audience. The name change is thus part of this effort to maintain their appeal to the U.S. market, and they have decided to accomplish their goal by taking a patriotic approach.
The cultural origins of tailgate parties start in the U.S. as the practice of hosting 'get-togethers' in the open tailgates of cars in parking lots. Football has been the most common sport associated with tailgating, although it is very common to see these events for basketball, hockey, and even baseball. They even resemble the atmosphere found in sports arenas, since attendees of these parties consume alcoholic beverages and grilled foods.
Most consumers who purchase beer pong tables and cornhole sets for these gatherings live in the U.S. As a result, Custom Tailgate Inc. has decided to rebrand themselves so that American customers can relate to the brand on a more personal level. While many brands lose that intimacy by trying to appeal to global audiences, the switch to All American Tailgate is a move to create a brand that Americans can feel they own, such as Ford or Amazon.
Although tailgate parties are seen as a niche activity, the popularity of these sporting festivities have created an entire industry. Tailgating was banned in 2007 by the NFL since the organization viewed it as a security risk, but the practice has since returned with widespread force. The nature of these pre-game gatherings has changed dramatically as well, and now features fundraising, charitable donations, and food sampling. Big corporations have taken advantage of tailgating too, hosting their own parties for marketing purposes. The industry surrounding this pre-game tradition generates up to $12 billion annually.
The retailer will continue to sell to a global audience, since tailgating has now grown into an internationally recognized pastime and social occasion. However, the plan is to continue supplying tailgating accessories to a worldwide market without sacrificing their American roots.
About All American Tailgate
All American Tailgate is a manufacturer and retailer of tailgate party accessories ranging from beer pong tables to cornhole boards and game sets. Although the company primarily sells sports-themed items, customers can also find accessories that feature other themes such as nature and outer space. The company prides itself for authenticity, since it builds, designs, and sells its own products, rather than relying on third-parties.