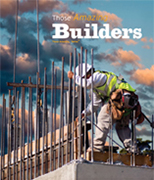 Trilogy's Adopt-a-School: trilogypublications.com
Englewood Cliffs, NJ (PRWEB) March 23, 2014
Educators are learning that getting students of all ages to embrace science, technology, engineering and math curriculum (STEM) is about making connections—showing real life examples and how they affect a student's world. And educators using Trilogy Publications Those Amazing… books are able to do just that—introduce young people to engineering and construction in a way that's relevant to their world.
Starting in April Trilogy is launching its Adopt-a-School program for its newest book, Those Amazing Builders, to encourage educators—superintendents, principals, teachers, guidance counselors—to apply on the Trilogy website for complimentary books and the accompanying teachers' guide. Those Amazing Builders, a book for middle and high school students, covers infrastructure and building projects, building green, building around the world, cool things builders have achieved, what builders can conquer in the future, and the roles of the building team. Another section, "How Do I Get There from Here?" explains how students can get started in various aspects of the field.
Once an educator or school district applies to participate in the program, Trilogy works to obtain a sponsor and sends the books to the school. The only requirement is that the educator fills out a simple questionnaire providing feedback on how the books were used.
Further information about the Adopt-a-School program is available on Trilogy's website, trilogypublications.com. Click on the "Those Amazing…Adopt-a-School Program" tab on the home page.
Trilogy Publications LLC is a partnership of communicators whose mission is to encourage elementary, middle and high school students to seek rewarding career paths and introduce them to fields they might otherwise overlook. Through its Those Amazing…series, Trilogy aims to introduce young people early on to careers that can benefit them as well as society, so that the world will be a safer, greener, better place for all of us.