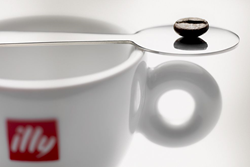 Mornings just got better at Mount View Hotel with in-room Espresso Machines by illy Coffee.
Calistoga, CA (PRWEB) March 21, 2014
Experience the Art of Relaxation at the Mount View Hotel & Spa in downtown Calistoga, California. Zagat-rated in Top U.S. Hotels & Spas and member of the Green Hotels Association, the property features luxury suites, private cottages and an award-winning spa to inspire romance, rejuvenation and relaxation in Legendary Napa Valley Wine Country. We are pleased to announce a new partnership with illy Coffee and feature in-room illy Espresso Machines in every room.
COFFEE LIKE NO OTHER
Coffee of the highest order, coffee that delights: this is illy's mission, passion and obsession. A simple idea created through complex means: eight decades of experience; unmatched knowledge of coffee biology and chemistry; unrivalled skill at roasting; the pioneering of innovative, enabling technologies; and a family's entrepreneurial passion.
There is a taste, a feel, an aroma that is all illy's own. Velvety, immediately sweet, delicately balancing floral and fruity notes with caramel, toast and chocolate, naturally fragrant with aromas of almond and honey. You just might hold the sugar, for the very first time.
This is balance that comes only from a blend: the singular illy blend of nine highest-order Arabica beans, selected and directly purchased by illy from farms spanning four continents. Each individual bean contributing to a greater whole, for the pleasure of those who appreciate all that coffee can and should be.
In the cup, the illy blend becomes a symphony: rich, full, multi-faceted, yet subtle, comprised of immensely talented soloists, each coaxed to their finest performance under the hand of an expert conductor.
illy employs a team of master blenders, experts in bean selection and tasting known as liquorers, each with special skills and sensitivities ideal for determining the cru—in coffee's case, the particular beans—that will comprise the illy blend.
Tasting is a delicate process. Every two months after purchase, coffee is re-tasted, to ensure beans are maintaining the characteristics for which they were originally chosen. The same batch is evaluated up to eight times before becoming part of the illy blend.
Wake up refreshed and renewed after a relaxing night's sleep at Mount View Hotel & Spa.