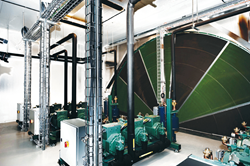 Delivering Energy Savings of Up to 85 Percent Over Other Cooling Designs
(PRWEB) March 24, 2014
Air Enterprises is excited to announce that Chris Fulton, VP, Sales & Marketing KyotoCooling® has been selected to present groundbreaking new concepts at this year's Anixter's Next Generation Data Center Seminar Focus Event in Cuernavaca, Mexico, March 27 & 28. The presentation will launch the release of an innovative one-piece, plug and play, 100kW cooling unit. The presentation will focus on the replacement of traditional and inefficient computer room air conditioning (CRAC) units.
KyotoCooling® by Air Enterprises is proud to participate in this focused key user event with Anixter; a leading supplier of Mission Critical Infrastructure for Data Centers.
Highly ranked IT & Facility Managers from the top end-users, that drive the Mexican data center market, will attend by invitation only.
For more information about the presentation in Mexico, please contact:
Chris Fulton
VP, Sales and Marketing KyotoCooling®
+1 216-916-6625
cfulton(at)airenterprises(dot)com
John Kolar
VP, Mission Critical Solutions
+1 330-322-0170
kolar(at)airenterprises(dot)com
About KyotoCooling® (kyotocooling.com)
KyotoCooling® is the leading, energy-optimized cooling solution for data centers. It is also the "greenest" solution, delivering energy savings of up to 85 percent over other cooling designs. KyotoCooling® is able to maintain precise balance in pressure between cold and hot spaces to deliver an optimal operating environment. By precisely controlling the flow of air in the data center, KyotoCooling® has delivered energy efficiency in North America and Europe ranging from a PUE of 1.05 to 1.15.
https://www.anixter.com/content/dam/Suppliers/CPI/Case%20Studies/CPI_CASE_STUDY_BENDBROADBAND%281%29.pdf
About Air Enterprises (airenterprises.com)
Air Enterprises designs, engineers and manufactures custom air handling solutions to meet any system configuration or space requirement. The Company has special expertise across many industries, including automotive, data centers, healthcare, industrial, pharmaceutical, and educational markets. With 50 years of application experience and a focus on energy savings and sustainability, Air Enterprises partners with the client to deliver the most efficient solution at the lowest total cost.
For more information about cooling solutions for data centers, visit http://airenterprises.com/data-centers/.