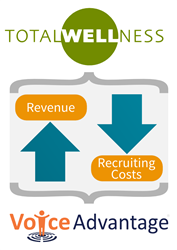 With Voice Advantage, we have all been freed up to do bigger and better things.
Milwaukee, WI (PRWEB) March 24, 2014
A growing business can be a blessing and a curse. While increasing revenue is something to which all businesses aspire, efficiently finding the right people to meet demand without sacrificing quality can be a real challenge. TotalWellness faced this exact challenge in 2012. TotalWellness, an industry leader in tailored corporate health and wellness solutions, was expanding nationwide and needed an effective way to find the right talented individuals who could facilitate its incredible array of wellness services. It turned to Voice Advantage, HarQen's award-winning digital interview platform, for help.
HarQen's latest case study outlines the effect that working with Voice Advantage had on TotalWellness's recruiting process as well as its bottom line. TotalWellness realized savings in hiring efficiency and translated those improvements into real dollars through reductions in its external recruiting expenses and travel costs.
TotalWellness redirected the time it saved recruiting with Voice Advantage to focus on key aspects of its business to continue growing and providing exceptional quality to its clients. "With Voice Advantage, we have all been freed up to do bigger and better things," said Kate Adams, Director of Nursing & Vice President of TotalWellness.
Ane Ohm, HarQen CEO, is equally pleased with the results. "Working with an innovative partner like TotalWellness is truly exciting. Seeing everything they have accomplished with Voice Advantage is amazing and we are proud of the outcomes they have experienced," she said.. "Being able to support TotalWellness's well-deserved expansion and commitment to hiring great people is a real pleasure."
The case study can be downloaded from the Voice Advantage website at http://www.voiceadvantage.com where visitors can also explore the Voice Advantage candidate experience.
About TotalWellness (http://www.totalwellnesshealth.com):
TotalWellness has been partnering with companies for more than a decade to lower healthcare costs, prevent diseases, and create corporate health and wellness solutions to foster a safer and more productive work environment.
About Voice Advantage (voiceadvantage.com):
Voice Advantage is a powerful digital interview platform that empowers businesses to interview and screen talent for every level of the job market and from every corner of the globe. Review candidates ten times faster and cut screening costs up to 70%. Voice Advantage was named Human Resources Executive, Top HR Product of the Year in 2010 and is powered by HarQen.
About HarQen (harqen.com):
Founded in 2007, HarQen's award-winning Hypervoice solutions enable interviews, meetings, and other conversations to be securely captured, enriched, organized, shared, and analyzed.