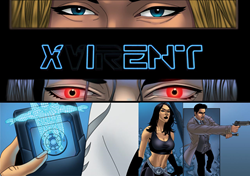 At InEvoWare, we have always believed that Virtual Reality was going to be the ultimate frontier for entertainment.
Halifax, NS (PRWEB) March 21, 2014
A new gaming project has just launched on Kickstarter, and its developers promise that it will change the virtual reality landscape for ever.
They're calling it "XViREnt", short for "Experiences in Virtual Reality Entertainment", what's touted as a revolutionary Virtual Reality gaming platform.
The project is being developed primarily by InEvoWare Inc (also known as Infinite Evolutions Software), a Canadian corporation and game development studio founded in 2008, which re-uses technology researched and developed in its 15-year old Intellectual Property, the browser-based massively multiplayer online role playing game (MMORPG) The King Of Spades. It is argued that the game was the first to introduce the freemium model fused with User Generated Content (UGC) in an MMORPG.
CEO Salem Al-Tamimi described the reason for developing this platform: "We've taken a look at existing 3D multiplayer virtual worlds and asked the question: How do we make it easier for a non-gamer, and non-tech-savvy person to be able to jump into a virtual reality world and naturally know how to interact in that world. Once we've solved that problem, the next challenge was how to allow players to create their own story, quests and content in this world, again, with minimal or no technical or even gaming knowledge. Finally, we start applying the gaming modules and technologies that we've been pioneering in The King of Spades project since 1999."
An immersive Virtual Reality world has been the dream of gamers and techies for decades. But now, it seems that the momentum for widespread VR adoption is picking up quickly, many firms have already made announcements of porting their own online games into Virtual Reality, and so the space is going to get crowded very fast.
So is InEvoWare up to the challenge?
Former partner and early investor Samuel Brown explains: "When the team started developing The King of Spades, it was basically a shot-in-the-dark experiment in the development of tools to allow users to generate their own content, be it characters, storylines, monster races, weapons, clothing, quests, and even entire worlds. By creating their own unique stories and world, they immediately stood out in the crowd. The coolest or most creative worlds or quests would bring in players from all corners of this virtual universe, which brought the characters virtual income, encouraging even more creativity. Obviously in a full blown 3D virtual reality world it is difficult for just one development company in a short amount of time to replicate entire worlds, planets and content that 20,000 players have been creating in The King of Spades browser-based universe for a decade and a half. So the team created an SDK for this virtual reality platform"
The SDK, or Software Development Kit, is a tool that game developers, writers, channel owners and other types of content owners can use to convert their content into a format that can basically plug and play into XViREnt. From what InEvoWare is claiming, you don't necessarily need to be a techie or programmer to be able to contribute or sell your own content in this world, but programming knowledge will certainly help in creating newer and bigger features.
Salem gives examples of such content: "Think virtual reality versions of Movies, YouTube videos, board games, books, magazines, interactive educational material, interactive business presentations, really the possibilities are limited only to the imagination and skills of the content providers. And that could be you. This system will operate like an App Store, the app developers get the biggest chunk of the money that players paid for their apps or content, and we keep a small cut to cover infrastructure costs and VR support and experience improvement. We will never stop upgrading the experience to the next big thing, or the next level of VR that makes this experience even more realistic."
Samuel adds: "And because we're covering the networking, VR hardware input support, and infrastructure costs on behalf of the developers, that saves potentially hundreds of thousands of dollars in servers and personnel that would otherwise need to be budgeted for."
John Goldstein, a hard-core gamer and fan of the company who has been playing The King of Spades for about 10 years said this when he heard the news: "I am super excited. Sad that the browser game is shutting down, it was great fun while it lasted, and I made everlasting friendships with the people I met in the game, but I'm excited for its next evolution. I can't wait to see the virtual corporation and superhero team that I created [The Zerohood] realized in this new VR universe."
"So what you end up getting," continues Salem, "Is this one core virtual reality game world, and then the possibility of dozens, maybe hundreds of other content developers coming in and contributing their own art, books, videos, creatures, characters, and worlds. And what makes it different from other virtual worlds, is that it's powered by a strong, popular, and award winning RPG storyline with a strong emphasis on uniqueness. No two players in The King of Spades are alike, unless they are twins. And yes, you will also have virtual families and relationships in this new virtual world, just like its predecessor."
Indeed, the demo they've released on YouTube isn't revealing too much as of yet, and many questions remain on how gameplay will be and what technologies are going to be used to implement all the promised features. But with closed beta slated for November 2014, they are now accepting applications for the beta on their website, http://XViREnt.com
Salem concluded: "At InEvoWare, we have always believed that Virtual Reality was going to be the ultimate frontier for entertainment. It is only thanks to affordable consumer VR technology and powerful yet affordable 3D engines that we are now able to realize massive virtual worlds like The King of Spades inside of an immersive virtual reality environment. 500 citizens signing up the first week we announced it to our small community is a sign that we are filling a much needed gap between MMORPGs and Social sandbox virtual worlds. This is only the beginning. The future is exciting."
Developers interested in getting their hands on the SDK or content makers interested in providing their content in this virtual world can sign up for free in the developers' center at XViREnt.com.