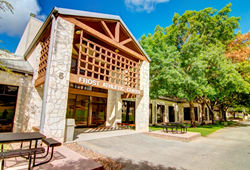 Our south Texas location enables us to serve a diverse population from every walk of life including a significant Hispanic-speaking population.
Croton-On-Hudson, NY (PRWEB) March 24, 2014
San Antonio, Texas is the fifth location in the Camp Shane weight loss family of camps. This new facility is already receiving numerous requests for new camper applications for this summer's weight loss camp programs which offer two, four and six-week options. The program's Texas Hill country setting is on a gorgeous 83-acre beautifully landscaped and wooded campus and features an impressive array of state-of-the-art facilities. "Since 1968, our success with thousands of kids struggling with obesity has allowed our continued expansion into an underserved region. Now families will have a treatment solution for their overweight children in a new part of the country," says David Ettenberg, Owner/Director of Camp Shane.
Camp Shane teaches children ages 7 to 16 how to completely reshape their bodies and their lives. For forty-six years Camp Shane has helped transform the lives of kids and their families. Not modeled after a boot camp, instead the program employs a beloved and renowned program of outdoor fun, educational activities and healthy living choices. "We like to think of it as providing a tool-box with a user-friendly manual. Our campers love it here," says Ettenberg.
Also new to Camp Shane Texas this year is their Young Women's Program for ages 17-22. Since 1969, this has been a very successful and effective program at the New York Camp. It is one of the very few such programs that focus on this age group and is extremely affordable, making it particularly appealing.
Camp Shane Texas offers a particularly unique opportunity. Just minutes away is Shane Diet & Fitness Resorts, run at the luxurious La Cantera Hill Country Resort. Shane Diet's adult weight loss program is the winner of the 2013 Spa Finder Award for the Best in Nutrition and Fitness and the 2013 Best of San Antonio Award for their Physical Fitness Program Featuring programs aligned with Camp Shane's Texas calendar, families can easily coordinate attendance for their children at Camp Shane while simultaneously attending their own adult weight loss program just around the corner.
"Our south Texas location enables us to serve a diverse population from every walk of life including a significant Hispanic-speaking population," notes Ettenberg. A recent article in The Journal of Obesity stated "In the United States, ethnic minorities are overrepresented among the overweight and obese population, with Hispanic individuals being among the groups most at risk for obesity…there is a pressing need to develop more effective interventions for these groups." "Now we can offer a convenient regional treatment solution to those families," says Ettenberg.
Through an easy yet effective nutrition program, focusing on everyday foods and portion control along with invigorating outdoor activities and behavior coaching, the campers at Camp Shane not only lose weight but also learn simple techniques for keeping it off. The children learn to make healthy choices with classes in cooking, nutritional menu planning and reading food labels. Camp Shane accomplishes the weight loss results through a uniquely nurturing environment which teaches positive self-esteem combined with physical activities the children enjoy participating in.
This new location will offer ample opportunity for outdoor and indoor recreation. Included are two gymnasiums, a new indoor swimming pool, 100% air-conditioning in all sports facilities (dorms and classrooms), state-of-the-art weight room, and fitness center with multi-purpose rooms for dance and cheerleading. Outside, in addition to a garden, orchard, and miles of nature trails are soccer, football and baseball fields, an eight-lane all weather track, tennis, basketball, volleyball and tetherball courts. And, many of the modern dormitories come with custom-designed furniture, granite bathroom countertops and polished concrete floors.
Ettenberg observes, "Every summer our campers routinely establish lifelong friendships, leading to happy kids and happy parents. What also impresses the parents is the huge variety of 24/7 activities available. Even after a full day of physically active pursuits, a nutritious dinner is just the prelude to nightly scavenger hunts, talent shows, movie nights, dances campfires and DJ parties. And the sessions are filled with special events for everyone such as carnivals, Las Vegas gaming, Fear Factor, Shane Idol, slip n' slides and theatre productions."
Ettenberg points out that the most important difference Camp Shane makes is "…the support we continue to provide after camp ends. We all know new healthy lifestyles must be maintained and parents are key. We provide families a Camp Shane Guidebook with tips for on-going care." At many locations they provide a monthly follow-up class to help the families maintain their weight loss success. Through our blog Camp Shane offers continued education and reference info for the latest information on weight loss. "We believe in the lifelong transformational aspects of Camp Shane. It's what we're most proud of," says Ettenberg.
Even though Camp Shane is recognized as the country's top-rated and most highly media covered youth weight loss camp program, they maintain competitive pricing to ensure its services are available to all children who need to lose weight.
Since 1968, Camp Shane has been dedicated to fighting obesity in children and teens. Camp Shane offers five weight loss camps, featuring healthy menus, nutrition education, self-esteem building and an extraordinary number of fun activities. By empowering children with the knowledge and skill set they need to make healthy living choices--Camp Shane has helped tens of thousands of children transform their lives and gain the self-confidence they deserve.
Camp Shane
http://www.campshane.com
Click Texas weight loss camp for additional information about Camp Shane, Texas, including an enrollment form and request for a complimentary weight loss guide.