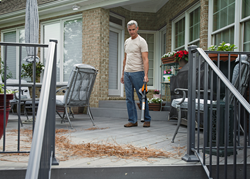 Using the WORX AIR Blower/Sweeper with Attachments, the homeowner can remove dust, dirt and debris from the front entryway, patio, deck and garage in rapid succession.
Charlotte, N.C. (PRWEB) March 24, 2014
After one of the hardest winters in recent history, most homeowners are daydreaming about a day at the beach, rather than pushing a broom or pulling a rake. But there's still a long list of necessary cleaning chores around the ole homestead.
What if you could knock off 85 percent of the dirt that's tracked, blown or carried into the house through common entry points? These entry points include the front and rear doors, garage, patio or deck. What if this continuous flow of dirt could be blocked by creating a clean zone around the perimeter of the house, reducing the amount of dirt that gets inside?
In fact, there is a way. By using the WORX AIR blower/sweeper attachments, the homeowner can remove dust, dirt and debris from the front entryway, patio, deck and garage in rapid succession. Then, in no-time flat, those inner tubes and other inflatables can be filled with air, and the family is off to the beach.
All eight AIR attachments are included with the WORX 20V and 32V MAXLithium Blower/Sweeper models. They can be used singly or in combination for a number of cleaning, clearing, inflating and deflating applications.
For instance, the AIR Wand serves as an air broom to clear dust and debris. It also is handy for drying cars, windshields, patio sliding glass doors, window frames and other flat areas.
The AIR Dust Brush is a 90° extension wand with a brush that removes cobwebs, clears out sliding door and window frame tracks and cleans recessed and hard-to-reach areas in RVs, vans, boat hulls and more.
Designed for quick cleanups, the AIR Compact Tube delivers a concentrated blast to clear out dust and debris from campers, cabin tents, picnic table tops, screened-in porches, patio steps, garage floors and more.
The AIR Extension Hose with AIR Detail Nozzle attached is intended for sensitive dust clearing.
Switch to the Inflator Nozzle for inflating beach rafts, inner tubes, air mattresses and other large inflatables. The AIR Deflation Cover and Nozzle deflates inflatables for storage and easy transport.
The WORX AIR Attachments are bundled with the WORX 20V MAXLithium 2.0 Blower/Sweeper AIR Kit (W545.1, $99.99) and WORX 32V MAXLithium 2.0 Blower/Sweeper AIR Kit (W575.1, $149.99). The WORX AIR Attachment Kit also is available separately (WA4091, $29.99).
WORX AIR is available at http://www.worxair.com.
Like and follow WORX at https://www.facebook.com/worxus and https://twitter.com/WORXTools.