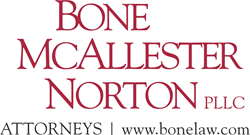 "We are excited to partner with our friends at Renasant Bank to provide a quality affordable home and an opportunity for a better life to a deserving family in our community." Sam J. McAllester III
Nashville, TN (PRWEB) March 24, 2014
Nashville law firm Bone McAllester Norton PLLC is joining forces with Renasant Bank to support Habitat for Humanity of Greater Nashville on a weekend build in the Park Preserve neighborhood of North Nashville.
Members from both the law firm and the bank will work together Sunday, April 6, 2014, on carpentry and painting in the home that will be designated for a Nashville family.
"Our attorneys and staff members are passionate and take great pride in supporting activities and events that benefit our community and its residents," said Sam J. McAllester III, vice president and member of Bone McAllester Norton. "We are excited to partner with our friends at Renasant Bank to provide a quality affordable home and an opportunity for a better life to a deserving family in our community."
Renasant Bank is one of Bone McAllester Norton's longtime and respected clients.
"At the heart of Renasant's mission is the desire to positively impact the communities that it serves," said Larry Lovelace, executive vice president, Renasant Bank. "Renasant Bank is a community lender, and we continuously strive to serve the needs of organizations working for the betterment of our community."
Since it was established in 1985, Habitat for Humanity of Greater Nashville has built or recycled more than 850 homes, more than 600 locally, and served more than 2,000 family members including 1,325 children.
"Giving back has always been a key part of what the firm does, so working with Habitat for Humanity to provide for others makes perfect sense," McAllester added.
ABOUT BONE MCALLESTER NORTON PLLC
Bone McAllester Norton PLLC is a full-service law firm with 37 attorneys and offices in Nashville and Sumner County, Tennessee. Our attorneys focus on 17 distinct practice areas, providing the wide range of legal services ordinarily required by established and growing businesses and entrepreneurs. Among our practices, we represent clients in business and capital formation, mergers and acquisitions, securities matters, commercial lending and creditors' rights, commercial real estate and development, governmental regulatory matters, commercial litigation and dispute resolution, intellectual property strategy and enforcement, entertainment and environmental matters. Our client base reflects the firm's deep understanding and coverage of today's leading industry and business segments. For more information, call 615-238-6300 or visit http://www.bonelaw.com.
-end-
Media Contacts:
Ann Dee McClane (615) 742-6889
amcclane(at)bonelaw(dot)com
Elizabeth Fielding (615) 321-3110
elizabeth(at)tsgnashville(dot)com