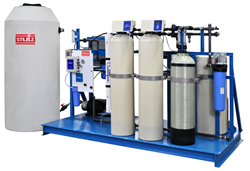 Frederick, MD (PRWEB) March 22, 2014
The agreement makes Culligan the single source provider for all water treatment products and services provided with STULZ Ultrasonic Humidification Systems.
"STULZ pioneered the use of Ultrasonic Humidifiers in mission critical environments almost a quarter of a century ago and has thousands of installations in North America," said Sales Manager Jim Marsh. "By partnering with Culligan, we are now able to offer our customers better water treatment options and a uniform service experience regardless of their location."
Ultrasonic humidification is known for providing efficient, clean, and precise humidity control for a variety of applications including data processing, telecommunications, archival storage, document processing, specialty manufacturing, clean environments, agricultural processes, health care facilities, and general comfort indoor air quality. The Ultrasonic Humidifier's adiabatic/evaporative technology creates a very fine mist that adds water vapor to the conditioned air. Untreated municipal or natural water supplies will generate particulate fallout during evaporation. The presence of minerals in the water supply will reduce the efficiency of the humidifier over time and may be detrimental to the environment being humidified, depending on the application.
"To ensure optimal operation, STULZ specifies a minimum water quality for use in Ultrasonic Humidifiers," continued Mr. Marsh. "This standard requires the last-step application of mixed bed deionization (DI) with optional pre-conditioning through reverse osmosis (RO) provided for bulk first-step mineral removal. Culligan is able to provide a full array of these engineered solutions, from stand-alone DI tanks to fully integrated skid mounted RO/DI systems."
With decades of experience engineering commercial and industrial water treatment systems, Culligan is already a water treatment partner to hundreds of manufacturing companies around the world. "Culligan products help the end-user client eliminate costly water problems by minimizing waste, maximizing performance, reducing maintenance costs and improving the operational efficiency of their water treatment systems," said Charles Bell, National Account Manager for Culligan International. "We are very excited by this partnership, and look forward to offering STULZ's customers advanced solutions such as Culligan's smart controller technology for reverse osmosis and water softening systems, which can be adapted to run the treatment process per the customer's unique project specifications."
Improving the customer service experience was also a major factor in the agreement. "With more than 700 Culligan dealerships throughout North America, Culligan is able to supply STULZ with third party certification of industry standards and complete end-to-end water treatment solutions from a single source," Mr. Bell commented. "Culligan also backs their products with an unparalleled depth of customer support: a certified analytical laboratory is onsite at Culligan headquarters for diagnosing water problems. Field-based technical experts are available for installation and start-up assistance and Culligan's extensive North American dealership network offers parts and on-going maintenance services on a local level."
STULZ Inc. has already started shipping solutions from Culligan and new customers will be able to take advantage of the partnership immediately. See http://www.stulz-ats.com/products/ultrasonic-humidification/stulz-water-treatment/ for details.
STULZ-ATS is an ISO 9001 registered manufacturer of environmental control equipment including a full line of energy efficient precision air conditioners, ultrasonic humidifiers, and desiccant dehumidifiers. The company is responsible for product development, manufacturing, and distribution for the North American arm of the international STULZ Group. For more information about STULZ and their products, call (301) 620-2033, email your request to [email protected] or visit http://www.stulz-ats.com.
Culligan Matrix Solutions® is the Commercial and Industrial division of Culligan International Company, a leading global innovator of advanced water softening and filtration solutions for more than 75 years. With its single-source, comprehensive water treatment technology platform for virtually any industry and application, Culligan Matrix Solutions addresses the needs of businesses for end-to-end water treatment systems that are faster, more efficient and cost-effective than ever. For more information visit: http://www.culliganmatrixsolutions.com, or call 1-877-216-6914.
Founded in 1936 by Emmett Culligan, Culligan International Company is a world leader in delivering water solutions that will improve the lives of their customers. The company offers some of the most technologically advanced, state-of-the-art water filtration products. Culligan's products include water softeners, drinking water systems, whole-house systems, and solutions for business. Culligan's network of franchise dealers is the largest in the world, with over 800 dealers in 90 countries. For more information visit: http://www.culligan.com.