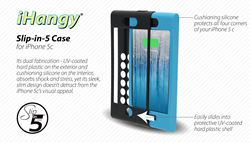 Dallas, TX (PRWEB) March 24, 2014
Owning an iPhone 5S can be an expensive proposition. Therefore, anything a consumer can do to protect their smartphone investment is worth making the effort. Apple accessories manufacture iHangy's latest innovation, the iPhone 5S Case with Lanyard Necklace, is helping iPhone 5S owners rectify two of the biggest wrongs they are making with their smartphone.
According to a recent Huffington Post (http://www.huffingtonpost.com/2014/02/06/doing-wrong-iphone_n_4732014.htmlarticle) article, there are nine things iPhone 5S users are doing wrong with their smartphone. Chief among these no-nos are "Using it outside in extreme weather" and "Walking around with your iPhone in your hand." On the former front, the newspaper explains, "Your iPhone isn't meant to withstand super hot or super cold temperatures." On the latter, it warns, "iPhones are a hot commodity on the black market and are a huge target for thieves." The new iPhone 5S Case with Lanyard Necklace resolves both these issues by protecting the smartphone from extreme temperatures and by keeping it secure around the neck where would-be robbers can't get at it.
For more information on how an iPhone 5S Case with Lanyard Necklace can protect the iPhone 5S from harsh weather conditions and thieves, contact iHangy's Palki Kochar. To learn more about the new smartphone case, visit the manufacturer on the web at http://www.ihangy.com/category-s/1842.htm.
###
CONTACT INFORMATION:
Hangy
13650, TI Blvd., Suite #309
Dallas, TX 75243
(877)676-0877