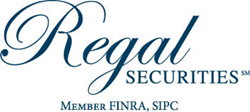 It is our goal to constantly improve our offerings and we're excited to share what we've been working on.
Glenview, Illinois (PRWEB) March 24, 2014
The Regal Securities National Representative Conference was held March 6-8, in Scottsdale, Arizona. This year's "Road to Success" conference showcased how Regal's internal resources, combined with their external partners, can assist their representatives in growing their businesses.
This year's agenda included topics such as research, marketing, and insurance resources, as well as best practices in risk management for alternative investments. To meet the growing demand in the industry for alternative investment products, Regal highlighted its external partners and held alternative investment workshops to share sales ideas and positioning for a diversified portfolio. Top advisors and representatives discussed best practices that continue to build success and participated in interactive panels to discuss Regal's internal resources and practice management ideas.
"All of us at Regal look forward to these conferences as a way to deepen existing relationships as well as forge new ones. It is our goal to constantly improve our offerings and we're excited to share what we've been working on. It was great to meet so many new faces and to catch up with existing reps," said Robert Villaflor, President of Regal Securities and Regal Advisory Services, an affiliated RIA firm.
The conference is an annual gathering for Regal's independent representatives and advisors to network, share ideas, and discover new opportunities, support and services. If you are a Registered Representative or Advisor interested in learning more about Regal Securities, contact Sharon Shapiro at 847-375-6084.
About Regal Securities, Inc.
Regal Securities, Inc., member FINRA/SIPC, was established in 1977 as an independent brokerage firm known for select service and flexibility and caters to financial professionals looking for access to best-in-class resources to grow their business independently. Regal provides full service custody functions as well as a breadth of internal resources such as Relationship Management, IT, Fixed Income, Syndicate, and marketing support for Registered Representatives, Broker-Dealers, Investment Adviser Representatives as well as Registered Investment Adviser firms. Regal's ability to handle diverse lines of business along with a culture of partnership, collaboration and professionalism combine to achieve the mutual goal of success for the company and its representatives.
For more information, please visit http://www.regalsecurities.com.