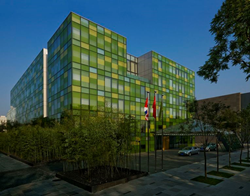 Hong Kong, China (PRWEB) March 22, 2014
Swire Hotels, including The Opposite House and EAST, Beijing; The Upper House and EAST, Hong Kong will participate in Earth Hour 2014 at 8:30 p.m. on Saturday, March 29, 2014. Earth Hour is a global event created by the people for the planet, yet the commitment made is intended to extend beyond one hour. Earth hour symbolizes what can happen when the people of the world act together in celebration of the planet's future.
Each of the hotels will turn off selected lights, including decorative, façade and back office lighting. Guests will be informed of the initiative via iPad®, iPod touch®, TVs, and also by the Guest Experience Teams.
Swire Hotels commits to developing sustainable and environmentally friendly hotels in an economically and socially responsible way. Beyond Earth Hour, Swire Hotels is conscious of making a positive difference for the environment by remaining as paperless as possible, among other initiatives. Swire Hotels use various environmentally conscious measures in hotel operations on a daily basis. These measures include offering paperless check-in/out and providing iPad®, iPod touch®, or TVs in every room that replace printed hotel directories. Energy saving Lexus RX450H hybrid cars are used at The Upper House and daily e-newspapers can be uploaded at EAST, Hong Kong (using an iPod touch®), and at The Opposite House (using an iPad®).
"Swire Hotels has given great consideration to the preferences of our guests and the effect our practices have on the environment. By utilizing the most up to date technology, Swire Hotels is committed to ongoing sustainable environmental practices and our guests will be encouraged to take part in our preferences," said Brian Williams, managing director of Swire Hotels.
About Swire Hotels
Swire Hotels has been created to manage intriguing urban hotels in Hong Kong, Mainland China and the United Kingdom, providing a characterful experience for travelers who seek individuality, style and personalized service.
The Opposite House, Beijing, opened in 2008 and was followed by The Upper House, above Pacific Place, Hong Kong, in October 2009. The Temple House will open in Fall 2014 in Chengdu.
Swire Hotels opened a 345-room lifestyle hotel called EAST, Hong Kong in Hong Kong's Island East in January 2010. The 369-room EAST, Beijing, located within INDIGO in Jiangtai, opened in September 2012. EAST, Miami, offering 263 rooms and 89 serviced apartments, will open in Brickell City Centre in 2015.
Swire Hotels has launched a new collection of locally inspired and stylish hotels in the heart of great British towns and cities called Chapter Hotels. The first hotel in the collection, The Montpellier Chapter, Cheltenham opened in 2010. The second hotel, The Magdalen Chapter, Exeter opened in June 2012.
###