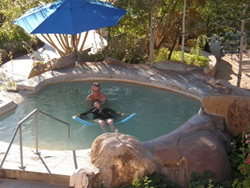 'As my body floated in 102 degree, mineral-rich water, and my therapist, David Dolan, stretched my spine, I sort of disappeared into what I can only call pure bliss. Time didn't exist at that moment.'- Kevin Hopper, Local IQ Magazine
Pagosa Springs, Colorado (PRWEB) April 04, 2014
With the combination of natural mineral hot springs, fresh mountain air, small town charm and abundant sunshine The Springs Resort & Spa in Pagosa Springs, CO has been able to utilize the natural resources to create a destination curative resort.
AquaZen Therapy combines CranioSacral Therapy (CST) with mineral water performed by advanced CST therapist in the riverside pools. Therapist David Dolan spent 10 years perfecting aquatic therapy in a pilot program with dolphins and patients. David was an instructor for the Upledger Institute teaching aquatic therapy in the Bahamas and has over 22 years of clinical experience.
The therapeutic soaking in the hot mineral springs uses the combination of unique minerals such as salt, sulfur, zinc, magnesium, and lithium to pull the toxins from the soft tissues of the body at particular temperatures and duration. The use of the CranioSacral Therapy and the therapeutic soaking are a natural holistic healing technique and modality that is one of a kind because of the unique hot mineral water at The Springs Resort & Spa.
About the Springs Resort & Spa: One of Colorado's best kept secrets, The Springs Resort & Spa in Pagosa Springs, Colorado is home to the World's Deepest Geothermal Hot Springs. The resort offers 79 rooms including 29 Gold LEED Certified EcoLuxe Suites. Guests are offered 23 outdoor naturally hot, therapeutic mineral water hot springs accessible 24 hours per day. Our full service spa and salon provides services including massage, facial, hair, nail care, neuromuscular therapies and chiropractic care. Our convenient location on the banks of the San Juan River offers access to many water activities including fly fishing, rafting, tubing and romantic walks along the rivers' edge. Other local attractions offered through the resort include hot air ballooning, scenic narrow-gauge railroad rides, dog sled tours, skiing, snowboarding, snowmobiling and ancient Indian ruin tours. In 2006 a visit from Oprah Winfrey who took a dip in one of our favorite mineral tubs – The Cliffs Tub – on her journey across the US When you are looking to spend quality time enjoying a quality soaking experience, The Springs Resort & Spa is your location. The Springs Resort & Spa in Pagosa Springs, Colorado. http://www.pagosahotsprings.com
About AquaZen Therapy: Therapist David W. Dolan, LMT, has developed this unique approach to injury rehabilitation. Combining the healing effect of "The Springs" hot mineral water with Advanced CranioSacral Therapy make this a unique approach to improving the fluidity and health of the body.