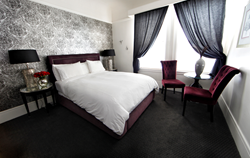 Tedeschi Family Winery earns a suite in Calistoga's prestigious Mount View Hotel!
Calistoga, CA (PRWEB) March 24, 2014
The Mount View Hotel is honoring the Tedeschi Family Winery by naming their most popular suite after the Tedeschi Family Winery. The suite is on the second floor and faces the main street, Lincoln Avenue, with a plush queen bed and separate sitting room.
The Mount View Hotel was founded in 1912, just seven years before the Tedeschi Family settled in Calistoga from Pisa, Italy. Two of the longest standing names in Calistoga - joining them seems like an appropriate "tip of the hat" to both of their longevity in the same town.
About the Mount View Hotel
Voted 'Best Boutique Hotel In Napa Valley′ by the Northbay Bohemian Readers and celebrating over 100 Years of Hospitality, eco-friendly Mount View Hotel & Spa is located in the heart of downtown Calistoga. Guests experience the Art of Relaxation with amenities and spa treatments designed with relaxation in mind with signature amenities including breakfast in bed, room service, free WiFi, cabanas, pool, mineral whirlpool & much more. The property features a mix of guestrooms, luxury winery suites, private winery cottages, two restaurants, and an award-winning spa to inspire romance, rejuvenation and relaxation in Legendary Napa Valley Wine Country.
Mount View Hotel & Spa is located at 1457 Lincoln Avenue in Calistoga just a short drive or easy bike ride to the Tedeschi Family Winery. http://www.MountViewHotel.com
About Tedeschi Family Winery
The Tedeschi Family Winery is a very small, family-owned winery producing less than 800 cases a year in the style of the "old-world." Their flagship wine is being made from the estate's dry farmed, single vineyard Cabernet Sauvignon. Eugene Tedeschi's parents settled in Calistoga in 1919, emigrating from Pisa, Italy. Eugene acquired the property that currently houses the winery and family home in 1951, where he planted the family's first grapevines among established fruit trees. In 1991, Emil, third generation Tedeschi, returned as steward after building one of Hawaii's most successful wineries: Tedeschi Winery – Maui. The Calistoga winery has become the passion and single focus of Emil's two sons Emilio and Mario along with a very interested daughter, Elaine. "Making wines our grandparents would be proud of is what we are aiming for. Traditionally made, old-world wines that can be enjoyed with a variety of foods, good friends, and able to put down in the wine cellar," says Mario Tedeschi, Winemaker.
Together, with Emilio acting as General Manager and Mario making the wine, they have sought out and committed to handcrafting old-world style wines from several small and neighboring vineyards to produce Merlot, Pinot Noir, Petite Sirah, Semillon, Chardonnay, Rosé of Pinot Noir and a dessert wine from Tempranillo. All of the vineyards are specially selected and hand-tended.
Tedeschi Family Winery is located at 2779 Grant Street Calistoga, CA 94515, just a half a mile south of Old Faithful Geyser. Visitors are invited to the winery daily by appointment from 10:30 to 5 for tasting. There is no commercial signage, so look for the address (2779 Grant St.) to enjoy the winery's private setting & picnic area!