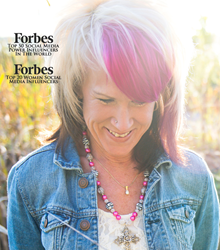 Warsaw, IN (PRWEB) March 22, 2014
Giveaways on social media are gaining popularity among brands, but the "Big Giveaway Happiness Day" contest created a Twitter outburst.
Sandi Krakowski, with a Twitter audience of more than 190,000, hosted a massive giveaway with the help of some of her favorite brands. Companies like Allen's Boots, Kenra Haircare, Country Outfitter, and Ellie Clothing donated and participated in the giveaway. Krakowski also donated several Apple products and some of her own products to the contest.
Because of the several hundred people who participated in the contest on Krakowski's Twitter page, there was a total of almost 1,000 responses and 600 retweets on Krakowski's posts in a 24-hour period. Participants entered the contest by responding with their happiest picture or video.
In the last 48 hours, Krakowski has added 1.4 thousand new followers to her Twitter page. Engagement on Krakowski's page exploded due to the added followers and the buzz from the contest spread rapidly.
The happiness celebration reached several hundreds of thousands Twitter users on Thursday because of Krakowski's giveaway. A total of 8 winners were announced on Krakowski's blog. You never know when your next 'on the fly' idea could be a PR explosion for your brand!
About Sandi Krakowski- Digital Media Marketing Expert noted by Forbes as a Top 20 Women Social Media Influencer and a Top 50 Social Media Power Influencer. Sandi is known in the marketplace for living an outrageous life, giving to many causes, writing, cooking and enjoying her family while serving over 2 million clients. She has a historic track record of building an online social media presence with more than 750,000 clients connected to her in less than 19 months. But the core of who Sandi is revealed in her powerful teaching on faith, belief and the power to #BEMORE in all areas of life. You can find her at: http://www.arealchange.com