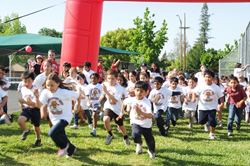 We are united in our desire to Stomp Out Diabetes! The power we have together far outweighs what any of us could do alone!
Los Gatos, California (PRWEB) March 27, 2014
Stratford School's Stompin' Out Diabetes walk will be held on April 25, 2014 at Stratford's Los Gatos campus, located at 220 Kensington Way in Los Gatos, CA. This is Stratford's second annual diabetes walk, in which students and community members come together to take a stand against the disease. "By making a donation or joining our walk, together we can protect the rights of people with diabetes, help the ADA provide community-based education programs, and fund critical research for a cure," said Karen Zimmerman, Special Events Manager, American Diabetes Association.
Last year, the ADA named Stratford School's Stompin' Out Diabetes walk #1 in the nation for fundraising. Their walk goal started at just $2,000 – and it kept increasing due to the generous support and donations they received. They closed the event with a whopping $22,000 earned for the ADA. This year, the goal is $25,000. "We are united in our desire to Stomp Out Diabetes! The power we have together far outweighs what any of us could do alone," said Cathie Bacosa, mother of Stratford School students, Nate and Kyler.
The Bacosa's are huge advocates of Stratford's Stompin' Out Diabetes walk. Nate is a type 1, insulin dependent diabetic on an insulin pump – he was diagnosed at the age of five. Nate is now in 13 years old, and will be giving a welcome speech the day of the event. His brother, Kyler, is overjoyed at ranking #1 in dollars raised for the ADA for 2013. "Stompin' Out Diabetes is my way of doing something to help cure diabetes for my brother. I want to make him as proud of me as I am of him," said Kyler Bacosa.
Similarly, Paul Casados, Physical Education Teacher at Stratford School, had a dear friend who struggled with the disease. He wanted to do his part to bring diabetes awareness to Stratford School, and is one of the main reasons Stompin' Out Diabetes exists today.
Close to 500 people are expected to participate in this year's Stompin' Out Diabetes walk. Most student participants will join the Stratford Los Gatos Team via the ADA website: Link to Stratford Los Gatos Team. Each participant will have their own personal web page where they may upload a photo, write a message, and send emails to encourage support and donations. All donations will be collected and recorded, and then delivered to the ADA. Each participant who raises over $10 will receive a Stratford Stompin' out Diabetes t-shirt.
About the Walk
Stratford School's Stompin' Out Diabetes participants will choose to either walk or run one mile around the Stratford, Los Gatos campus field. Markers will be placed, along with signs of encouragement, and volunteers will be on the sidelines rooting on students. Afterward, everyone will be invited to stay and enjoy activities including food and drink, jump houses, obstacle courses, face painting, vendor demonstrations, giveaways, and more. On March 28, 2014, a speaker from the ADA will visit Stratford's Los Gatos campus for an assembly for preschool through fifth grade.
Stratford School is an independent private school founded on the belief that education is a significant influence in the life of a child. Our mission is to create a school community that inspires children to realize their full potential, while providing a safe and nurturing school environment. To support our mission, since 1999 we have brought together principals, teachers, and parents who are passionate about education. Together, we provide the best possible learning environment for our students.
For questions regarding Stratford's Stompin' Out Diabetes walk, or for sponsorship opportunities, please contact Cathie Bacosa at Cathie.bacosa(at)comcast(dot)net, or Paul Casados at pcasados(at)stratfordschools(dot)com.
For questions regarding the ADA, Community Walk to Stop Diabetes, please contact Karen Zimmerman at kzimmerman(at)diabetes(dot)org.