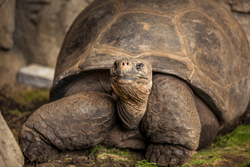 Newport, Ky. (PRWEB) March 22, 2014
Newport Aquarium's newest exhibit Turtle Canyon opened to the public at 10 a.m. on Saturday, March 22, following an Annual Passholder preview event.
Turtle Canyon features a diverse collection of more than 14 species spanning three continents, as well as a turtle corral that offers guests the unique opportunity to touch a variety of shelled reptiles.
At Turtle Canyon, guests can view turtles up close and personal from multiple angles and vantage points. From the largest tortoise species in the world, the Galapagos tortoise, to the smallest tortoise species in the Northern Hemisphere, the Egyptian tortoise, Turtle Canyon showcases turtles of all shapes and sizes.
Two massive turtles anchor Turtle Canyon, giving Newport Aquarium a total of three of the largest turtle species in the world.
Bravo – a 650-pound, 84-year-old Galapagos tortoise and the largest turtle in the Midwest – is the star of Turtle Canyon. Hatched on the Ecuadorian island of Santa Cruz, Bravo arrived at the United States as part of the last group of tortoises exported from the Galapagos Islands. He arrived at Newport Aquarium on March 6 from Riverbanks Zoo and Garden in Columbia, S.C.
One of the original animals displayed when Newport Aquarium opened in May 1999, Thunder, a 118-pound alligator snapping turtle, has made his new digs at Turtle Canyon. Believed to be more than 100 years of age, Thunder is the oldest resident at Newport Aquarium.
Denver, the nearly 200-pound loggerhead sea turtle with a three-foot-long shell, continues to roam the waters of the Surrounded by Sharks exhibit. When he first arrived at Newport in 2003, Denver was treated for an air pocket caught under his shell that made it difficult for him to dive and swim. Now completely healed, Denver serves as the aquarium's ambassador to its sea turtle conservation efforts.
Additionally, a turtle outpost sponsored by the WAVE Foundation, the non-profit partner of Newport Aquarium, is included in the new exhibit. The outpost provides guests with educational enrichment featuring turtle artifacts, as well as information on turtle conservation in the United States, including a citizen science project involving Eastern box turtles. The outpost will be open limited hours each day.
The newest member of the aquarium's turtle family is Tilly, a seven-month-old, 2-pound loggerhead who was put on display at the Shore Gallery exhibit in February. After hatching in August at Emerald Isle, N.C., Tilly has been fostered by the Newport Aquarium husbandry staff since late October as part of the North Carolina Sea Turtle Project, which gives loggerheads a head start as only one in 1,000 survive to adulthood.
For more information on Turtle Canyon and the Newport Aquarium Annual Passes, visit NewportAquarium.com or call toll free 800-406-FISH (3474). Visit the aquarium's Facebook page for #TurtleTuesday posts.
###