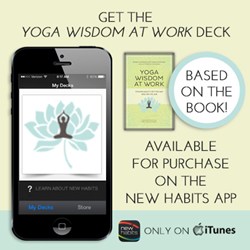 Phoenix, AZ (PRWEB) March 25, 2014
Yoga's ancient philosophy has partnered with cutting-edge research and app technology to help people develop lasting on-the-job behavior change that will enhance work meaning, productivity and satisfaction.
NewHabits, a free iPhone and iPad app, takes a "flash card" approach, breaking learning content into relevant digestible bites called "vital behaviors" on knowledge cards. The latest card deck, available for $0.99 in the NewHabits store on iTunes, is based on the recently released book "Yoga Wisdom At Work: Finding Sanity Off the Mat and On the Job" by co-authors Maren Showkeir and Jamie Showkeir (Berrett-Koehler, 2013, $15.95).
Nearly 25 million people in the U.S. practice the physical aspect of yoga — postures that increase flexibility, strength and stability. The Showkeirs, workplace experts and yoga practitioners, connect the time-tested philosophy underlying the popular physical practice to the modern workplace. The NewHabits Yoga Wisdom at Work card deck offers practical, easy ways to create and integrate on-the-job practices around ethics, compassion, mindful breathing, physical health, focus, productivity and more. Additional decks based on yoga and topics such as happiness, teamwork, emotional intelligence and managing money are in development.
The cards work by converting complex how-to knowledge into small, actionable steps that naturally fit how people learn from experience. Learners play a card daily from a mobile device to experiment with, and eventually master, a proven innovation practice. Cards are designed to fit into everyday routines and take only minutes to use.
The app is based on research done by Mark Clare, who teaches innovation and behavior change in the Leaders Program at Northwestern University. He has more than 20 years of experience with leading Fortune 200 companies, holds patents, a Lean Sigma black belt and Master's Degrees in both physics and philosophy and recently was named a winner of the prestigious HBR/McKinsey Management Innovation.
To download NewHabits, visit this page on iTunes or search on "Newhabits" in iTunes or the App Store.
For more information on the inventor of the NewHabits learning method, please visit newvaluesstreams.com. Information about Yoga Wisdom at Work and the Showkeirs can be found at yogawisdomatwork.com.