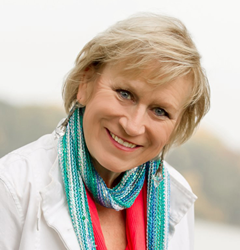 Colorectal cancer: That is a pain in the butt.
Youngstown, Ohio (PRWEB) March 25, 2014
Acclaimed humorist, comedian and author Brenda Elsagher turns tragedy into triumph, showing how being diagnosed with cancer prompted her to re-evaluate her life and change it for the better. It wasn't a cleaner house she sought, but adventure, deeper relationships and more fun.
Elsagher, the author of four books – "If the Battle is Over, Why am I Still in Uniform?", "I'd Like to Buy a Bowel Please!", "Bedpan Banter" and ""It's in the Bag and Under the Covers" – will share her message of hope and healing through laughter during the next meeting of the Youngstown Ostomy Support Group.
Sponsored by Humility of Mary Health Partners, the group will meet from 6:30 to 7:30 p.m. April 8 in the Cedar Room at St. Elizabeth Boardman Health Center, 8401 Market St., Boardman.
The meeting is free and open to ostomy patients, cancer patients and others who are interested. Refreshments are provided and parking is free. For information about the meeting, call 330.480.3440. For information about Elsagher, visit http://www.livingandlaughing.com.
The Youngstown Area Ostomy Support Group meets once a month March through December.
About Humility of Mary Health Partners:
Humility of Mary Health Partners is an integrated health system located in the Youngstown/Warren area. It is a region of Catholic Health Partners (CHP) in Cincinnati, the largest health system in Ohio and one of the largest Catholic health systems in the United States. HMHP provides a full spectrum of health care services, including inpatient, outpatient, emergency, urgent care, home care and long-term care. Members are St. Elizabeth Health Center, St. Joseph Health Center, St. Elizabeth Boardman Health Center, HM Home Health Services, The Assumption Village, Humility House, Hospice of the Valley and Laurel Lake. Learn more about HMHP online at http://www.HMpartners.org.