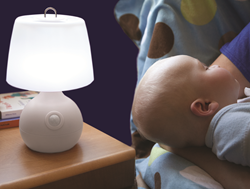 The Baby Bright LED Sensor Light is designed by parents, for parents
Santa Barbara, CA (PRWEB) April 01, 2014
Mighty Bright, designer and manufacturer of innovative personal LED lights, is pleased to introduce the Baby Bright LED Sensor Light, a multi-functional motion sensor light designed for nursery usage. The Sensor Light is designed with parents and children in mind, providing nursery-essential lighting for changing tables and nightstands. It is available at http://www.mightybright.com, an online shopping destination for LED lights for everyday life.
The Baby Bright LED Sensor Light is motion-activated, enabling parents to check on sleeping babies with ease. The motion sensor detects light up to 16 feet away; the light also features a manual on/off mode for parents to use while caring for their babies. Battery operated, the Sensor Light can be conveniently placed on changing tables, dressers, or nightstands while changing, feeding, or rocking a baby. The safe, efficient Sensor Light uses durable, cool LEDs, eliminating concerns of accidental burns or broken bulbs. The Sensor Light is available in four colors, fitting perfectly with any nursery décor.
Mighty Bright Baby Bright LED Sensor Light features:

Designed by parents, for parents
Perfect for a variety of baby care: quick nighttime safety checks, low light diaper changes, and nighttime feedings
Eight energy-efficient LEDs cast bright white light
Motion sensor activated - auto on/off
Constant on option
Durable LEDs last 100,000 hours - no replacement necessary
Precisely engineered optical grade lens spreads light evenly
Powered by 4 C batteries (included)
4.5" x 10" x 4.5" (Length x Height x Width)
About Mighty Bright
Mighty Bright's uniquely designed, eco-friendly personal lights are portable and affordable. Based in Santa Barbara, CA since 1985, Mighty Bright blends ease of use with impressive functionality and durability. Since LEDs provide hundreds of thousands of hours of light, you can feel good about your earth friendly purchase. For more information, contact Mighty Bright: 800.922.3233 or visit http://www.mightybright.com.