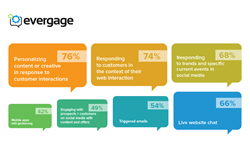 Marketers recognize the need to personalize a prospect's or customer's experience across channels and to respond to their interactions in the moment.
Boston, MA (PRWEB) March 24, 2014
Evergage, provider of a real-time behavior-based web personalization platform, today announced the results of a survey of more than 100 marketers spanning businesses large and small. The report provides insight into real-time marketing perceptions, challenges and opportunities, and documents its importance in increasing customer engagement, improving customer success and boosting conversion rates.
Marketers consider real-time marketing critical to their efforts as it becomes a mainstream marketing tactic. Three-quarters of respondents stated that they are currently using real-time marketing, 41 percent have included it in their 2014 budgets, and the vast majority (88%) considers it important to their 2014 plans. With nearly two-thirds of respondents from organizations with revenues less than $25 million, real-time marketing is becoming a reality for a great number of businesses and not just the biggest and most significant.
While many real-time marketing implementations were initially inspired by the practice of responding to trends and specific current events in social media, marketers today look for opportunities to inject real-time tactics into their strategies across channels. On average, survey respondents support real-time marketing on two of eight channels. Almost half are implementing it on social networks and the web, while 39 percent are using email to send triggered messages. Furthermore, three-quarters of marketers qualify real-time marketing as "personalizing content or creative in response to customer interactions" and "responding to customers in the context of their web interaction," with another 64 percent considering a real-time marketing response to be within or under a minute or within the same session.
"It's clear that marketers recognize the need to personalize a prospect's or customer's experience across channels and to respond to their interactions in the moment," said Karl Wirth, CEO and co-founder of Evergage. "But real-time personalization techniques shouldn't just be for the Amazons of the world. With the right technology at the marketer's fingertips, real-time marketing is now attainable for businesses large and small, B-to-B or B-to-C."
Real-time Marketing Opportunities and Challenges
Most marketers see the opportunities that marketing in real time present. For the 36 percent of marketers who said they track ROI (return on investment) of real-time marketing, a quarter of them sees returns of more than 50 percent and nearly as many sees 75 percent ROI. Moreover, respondents view real-time marketing as very beneficial, mentioning an average of 5.6 out of 8 benefits with the highest ranked being increasing customer engagement, improving the customer experience and increasing conversion rates.
These benefits should not be overlooked when faced with the question of whether or not to employ real-time marketing. While executing any new marketing tactic can be challenging, respondents reported the leading constraints to implementing real-time marketing are lack of resources (43%), lack of time (39%) and lack of knowledge (30%). Similar challenges are experienced when trying to measure the ROI of real-time marketing: a lack of knowledge (40%), lack of tools (40%) and lack of time (46%).
"Many marketers view real-time marketing as something that requires a substantial investment, but if you're running campaigns across multiple channels, you can unlock more revenue from those efforts by tying your tactics together with real-time web personalization," continued Wirth. "Now that the tools have matured to the point where they enable businesses to quickly, easily and cost-effectively achieve such high returns and improve customer success across the lifecycle, the value proposition is clearly there."
A free webinar about the survey results, featuring Tonia Ries, editor of The Realtime Report, and Arthur Sweetser, CMO of Evergage, will be held on Tuesday, March 25 at 11:00 a.m. EST. To register, click here: http://bit.ly/1gfeJvj.
Methodology
This online survey was fielded from January 14 to February 12, 2014 and included responses from 114 marketing professionals from 18 countries around the world, with the majority of responses from the U.S. The study was commissioned by Evergage and fielded by ResearchScape International. The corresponding white paper is available free for download at: http://bit.ly/1eZ2jbG.
About Evergage
The Evergage platform delivers real-time web personalization to more than 100 million web visitors, optimizing site conversions and customer success for over 100 organizations, including Acquia, Experian, Gardener's Supply Company, Millward Brown Digital, Palms Casino Resort, Publishers Clearing House and Sittercity, A BostInno 2013 "50 on Fire" and TechCrunch Disrupt finalist, Evergage's tools empower marketers and customer success teams with real-time dynamic content and inline messaging features, behavioral analytics and segmentation, and integrations with other top CRM and SaaS providers. Founded in 2010 as Apptegic, Evergage has offices in Boston and San Francisco. For more information, visit http://evergage.com or contact the company at sales(at)evergage(dot)com or 1-888-310-0589.
# # #