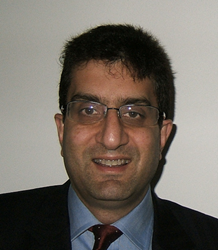 The BDA has warned that dental foundation training places are needed for 107 students in their final year of studies
(PRWEB) March 27, 2014
Tariq Drabu is a top dentist and owner of the Langley Dental Practice in Middleton, Manchester. He is the respected Clinical Lead Dentist for the Oral Surgery Clinical Assessment and treatment Services for NHS Heywood Middleton and Rochdale. He is a highly respected dental professional and teacher of postgraduate students, and he is known for his dedication to the education and support of dental students in the UK.
He was speaking in reference to an article recently published in the Denistry website. The article, which can be read here in full, announces recent warnings given by the British Dental Association (BDA) about a lack of training places for new dental graduates.
Tariq Drabu, leading dentist, said, "The BDA has warned that dental foundation training places are needed for 107 students in their final year of studies. It is essential these places are found in time for the allocations process which will take place this summer. This shortfall in numbers is an extremely serious situation. If our final year students are not able to find the training places they need, they will be unable to obtain a performer number and work independently in NHS practice. It would certainly be a disaster for these young students if sufficient places are not found for them. The right levels of funding and the subsequent places must be made available for our students."
Tariq Drabu the dentist went on to say, "This is an incredibly serious matter. I am aware that the BDA has contacted the Department of Health to highlight the issue. Decisions will need to be made and actions taken prior to the summer allocations to ensure the 107 dental students do not miss out. I can fully appreciate how stressful and concerning this must be for them. It is not fair that our young students who are already amassing debt through their student loans have to cope with these threats to their continued education in addition to dealing with the stresses of study. These training places are required and are a prerequisite to them being able to practice in the NHS. We cannot have a situation where our new dental graduates are not able to access the training they are entitled to and need in order to successfully complete their dental foundation year. I am pleased that the BDA is applying pressure and highlighting the problem to the Department of Health. As the article says, there will need to be a 'concerted effort' from the Department of Health to provide the necessary funding. It is the only way to ensure sufficient training places are made available or our students. And they are our students! As dental professionals, we all have a duty to support and assist the next generation of dentists."
He closed with "I am proud to be a teacher for postgraduate students. I am also delighted that Langley Dental Practice has been selected as a foundation training practice from September 2014. I will continue to do my best to apply pressure and highlight the issue. A number of leading names and committees within the dental profession have already expressed concerns, as have many of my colleagues. I have no doubt we will all continue to apply as much pressure as we can until the funding is provided to give these students the training they must have."
About Dr Tariq Drabu
Dr Tariq Drabu is a highly experienced and well known Manchester dentist and GDC registrant. He is accredited as a Specialist in Oral Surgery by the General Dental Council. Dr Tariq Drabu practices at his Langley Dental Practice in Manchester. Dr Drabu is a leading name in dentistry, with more than 25 years' experience in both general practice and hospital dentistry. Dr Tariq Drabu is also the Clinical Lead Dentist for the Oral Surgery Clinical Assessment and Treatment Services at NHS Heywood, Middleton and Rochdale. He is a specialist staff member at The UCLan Dental Clinic in Preston.