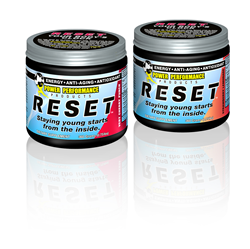 It is the only pre-workout energy-boosting product formulated specifically for body builders and fitness enthusiasts who want to maintain -- or even regain -- their youthful strength and appearance.
Encino, CA (PRWEB) March 25, 2014
Barely on the market for six months, RESET, the only pre-workout energy drink supplement featuring anti-aging and HGH-boosting benefits, is gaining great support from its dealers.
Spencer McCray, owner of Pro Fit Nutrition and Conditioning in Riverside, CA, said, "Customers who have purchased RESET are all telling us the same thing, they love it! The energy levels you get from RESET will get you through your rough day at work or school, get you an amazing workout, and help you with your recovery time. Not only does it speed recovery but it also is helping with the aging process of both men and women. Any of our customers at the age of 25 or older are picking 1-2 up a month."
Fernando Salas, owner of Max Muscle Sports Nutrition, Wesley Chapel, FL, commented "RESET has brought a new and unique supplement to my customers, especially those who want to take a product for pre-workout which does not contain any Creatine, and also for those who would like to use a product to maintain their health and energy levels throughout the day."
Speaking as a dedicated user himself, Corey Boxx, owner-operator of Peak Nutrition Group in Fallon, Mo, said, "Taking RESET, I still received a powerful focus while in the gym but without the jitters or the crash. Why? Because of the Guarana and the other natural stimulants found in RESET. The coupling of the antioxidants in RESET provides me with a quick recovery and actually helps me feel better overall."
RESET, produced by Power Performance Products in Encino, CA, is targeting a broad and untapped market in the fitness category. It is the only pre-workout energy-boosting product formulated specifically for body builders and fitness enthusiasts who want to maintain -- or even regain -- their youthful strength and appearance.
RESET contains IgF1-rich Colostrum that helps trigger the body's own production of Human Growth Hormone (HGH), helping users look and feel younger, along with aiding in weight loss and improving muscle tone. RESET also features a powerful suite of antioxidants that protect against cellular destruction from the inside caused by factors such as pollutants, oxidative stress, even over-exercise.
Distribution of RESET has extended internationally both through dealer networks and Internet sales. Ryan La Rance, the director of Natural Distributions Australia, said, "While most other companies are trying to source a shinier tub or put in a pinch of a popular ingredient, Power Performance Products has gone another way and analyzed which parts of the market are currently untapped. Their products hit product categories that nobody else occupies, which makes them so easy to sell, given that there is no competition."
While the pre-workout supplement category already includes a number of energy-boosting products, including Power Performance Product's own Body Effects powdered drink supplement, until now, none anywhere has featured age-reversing properties as its key benefit.
"We see this as the perfect product for men and women who want to maintain the strength of their bodies and youthfulness of their appearance while getting them energized for their workouts," said company owner Todd Fromin. "I'm thrilled, but not surprised that we're getting such rave reviews from our dealers, many of whom are now taking RESET themselves."
Power Performance Products is releasing RESET to selected brick-and-mortar and online retailers both within the United States and overseas. The choice of flavors currently includes Very Cherry Punch and Strawberry Lemonade. Shortly Pineapple Coconut will join the line, and other flavors are coming soon. More information about RESET can be found on the company website: http://www.PowerPerformanceProducts.com.
About Power Performance Products
Founded by fitness enthusiast Todd Fromin in 2008, Power Performance Products produces a line of pre-workout powder drink supplements designed around the work-out needs of bodybuilders and fitness enthusiasts. Their product lineup includes the very popular Body Effects, for more effective weight loss while boosting workout and mental energy; and its newest offering, Reset, bringing anti-aging and antioxidant benefits to the energy supplement category. Its products are sold online and in selected retail stores. For more information about Power Performance Products, visit http://www.PowerPerformanceProducts.com or call (888) 556-9344.