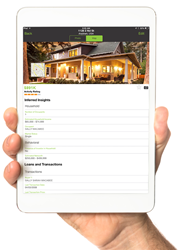 With the app, I have fostered great conversations and have built instant rapport with homeowners and clients while on the go.
Pleasanton, CA (PRWEB) March 24, 2014
SmartZip Analytics, Inc., the leader in analytics-powered targeted marketing automation for the real estate industry, has released its second generation SmartTargeting mobile iOS app that is optimized for the iPad and includes demographic insights. SmartTargeting for mobile is the first prospecting app that arms real estate agents with detailed behavioral and demographic insights on homeowners; in addition to housing and loan information on each home in their prospecting territory. The new app instantly displays insights at a glance that can spark informed conversations and authentic connections between agents and homeowners. When combined with SmartZip's predictive analytics that identify homeowners with the highest propensity to sell their home, the new mobile app gives agents an unprecedented advantage in growing their listings business.
The SmartTargeting platform combines big data, hyper-local predictive analytics, and targeted marketing automation to help agents identify and connect with the most likely home seller prospects in any neighborhood across the United States. With the launch of the second generation iOS app, SmartTargeting clients now have a powerful advantage to take demographic intelligence with them on the go. "With our new mobile app, SmartZip delivers a powerful relationship building tool to arm agents with the insights they need to shape successful conversations," said Avi Gupta, president and CEO of SmartZip. "Now, agents can perform instant due diligence and know that homeowners bought their house four years back, built equity in their home, and have 2 kids headed into college. This brings them into a conversation that may have otherwise been missed, and fosters trust. Such contextual and relevant connections are key to business success."
The SmartTargeting mobile app is available to download for Android and iOS, and includes a slew of new functionality:
Access more SmartTargeting features on the go

Demographic, property and loan insights on each home and homeowner
Custom map drawing tool to easily adjust and verify home values
Ability to edit property details and upload photos directly on homeowner profiles
New search filters to find homes most likely to sell based on location
Improved user experience

Newer, flexible design supporting iPad/iPhone landscape & portrait modes
Integrated tools

Google Maps for quick directions to any specific property
Integrated phone numbers and emails for one-click connections with prospects
"Accessing homeowner insights on the fly helps me to be credible and reputable to my prospects," said Steve Kunkel of Keller Williams Realty. "With the app, I have fostered great conversations and have built instant rapport with homeowners and clients while on the go. The SmartTargeting system is a game-changing concept that propels me ahead of my competition."
The SmartTargeting mobile app for both the iPhone and iPad is available for download from the Apple AppStore. Android versions of the app are available on Google Play. This second generation mobile app follows rapid enhancements to the SmartTargeting platform in recent months, including turnkey Facebook ads targeted precisely at best home seller prospects, automated handwritten notes, marketing just-listed/sold homes, and full agent control over branding and online/offline campaigns.
To learn more about how SmartTargeting can help real estate agents and brokers accelerate their listing wins, visit SmartZip at http://www.smartzip.com or call 888.402.7960.
About SmartZip Analytics, Inc.
SmartZip Analytics is a national leader in predictive marketing solutions for real estate and related industries. Using patent-pending home intelligence, predictive analytics and automated marketing campaigns, SmartZip's SmartTargeting platform offers an integrated solution that can identify top prospects accurately and help reach them through precisely targeted online and offline marketing channels. In addition, leading national real estate companies rely on SmartZip's best-of-breed analytics for their online businesses. SmartZip Analytics is the first company selected to join the 2014 class of REach™: an accelerator program developed by the NATIONAL ASSOCIATION OF REALTORS® that helps introduce innovative technology companies to the real estate marketplace.
SmartZip is backed by Intel Capital, Claremont Creek Ventures and Javelin Venture Partners, and headquartered in Pleasanton, CA.