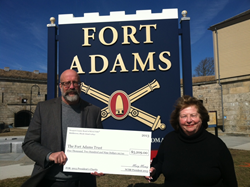 A tremendous amount of work has been done to open up the area for public use, both education and recreation
Newport, RI (PRWEB) March 28, 2014
Mary Moniz, immediate past President of the Newport County Board of Realtors nominated the Fort Adams Trust for their 2013 President's award. A check was given to the Trust just days ago at the Realtors monthly breakfast meeting.
The $5,209 award will be used by the Fort Adams Trust to expand hands on and "Adventure Learning" opportunities to young adults of all ages. When asked why the Fort Adams Trust was her designated recipient, she replied, "Historic Fort Adams and the other landmark structures in the Park represent over 200 years of our history. In the last few years, a tremendous amount of work has been done to open up the area for public use, both education and recreation. We want to do what we can to see that the progress continues."
Richard Nagele, Executive Director of the Fort Adams Trust noted that, "The Trust has been fortunate to receive some generous donations in the past. This gift from the Newport County Board of Realtors is not only is one of our larger private donations, but it is very timely in that it will help us fund our new 'Adventure Learning & Teambuilding Center' at the Fort. We'll be opening the Center this summer."
Nagele continued, "Fort Adams is the largest, most sophisticated coastal fortress in North America. It is very significant in that it is one of the places where America learned how to build complex military systems. We were the NASA or applied research lab of our day. Gifts like this help us continue our forward progress."
Fort Adams offers traditional guided and self guided tours of the National Historic Landmarks in the Park. Visitors can interact with re-enactors, learn firsthand how the fortress was built, experience what it would have been like to attack the fort from land or sea, and how the defenders lived. In addition, the Fort is installing a teambuilding center with zip line and other competitive and leadership activities.
Ms. Moniz, a realtor with RE/Max Professionals of Newport shared her excitement and appreciation for the Fort during the breakfast award ceremony.
About the Fort Adams Trust
The Fort Adams Trust is a 501 (c)(3) non-profit responsible for preservation, programming, and promoting the National Historic Landmarks in Fort Adams State Park in Newport, Rhode Island. Over 100,000 people tour the Fort and attend events in the Park annually.