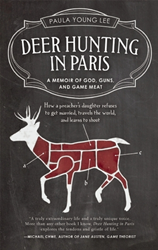 Nursery rhymes mask vicious politics. So does a well-cooked meal.
(PRWEB) March 24, 2014
Paula Young Lee dazzles readers with her memoir, Deer Hunting in Paris: A Memoir of God, Guns, and Game Meat. Released in November 2013 by Travelers' Tales, Lee's witty life story is both relatable and hilarious.
The daughter of a pastor who grew up reading in confessionals, Lee meets her partner on a dating website while living in Paris. He's the conservative to her liberal, the meat-eater to her vegetarian, and the family-values supporter to her in-the-moment philosophy. Lee's poignant and witty memoir takes the reader on a dazzling journey and is sure to be an instant success.
Chock full of recipes for game meat, this book is sure to thrill hunters, meat-eaters, and anyone who has tried to get in the good graces of their partner's family.