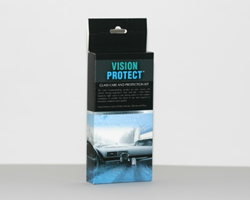 Sydney, Australia (PRWEB) March 23, 2014
Today, a company spokesperson announced Nanovations has introduced the next generation of automotive windscreen treatment which offers advantages over competing products in significant performance and functionality on today's markets.
The product sold under the brand name 'Vision Protect' in several countries, is formulated with an inorganic sol-gel technology developed by Nanovations. This nanotechnology is based on coated solid silica which is an inorganic material, and therefore UV resistant. Unlike organic materials, such coating formulations can resist UV radiation for 10 years and even further on exposed building glass.
Nanovations has already used the technology on many projects worldwide. With 'Vision Protect', such formulations are now available for use on automotive glass. Unlike traditional glass coatings that cover the surface structure of the glass, creating a thin layer of non-stick chemicals, the Nanovations glass treatment 'Vision Protect' follows the contours of the glass surface right down to the nanometre level. The results are small nanometre thin layers that are enormously durable, and as you would expect, UV resistant.
Positive Product Impact
The company spokesperson added in-house analysis results were achieved through successful testing by an independent, accredited USA laboratory with an astounding 500,000 windscreen wiper cycles. This testing procedure was used to simulate durability of wiper blades on a windshield. Accordingly, what was impressive even after the testing process, the coating still indicated a good water repellent effect, and did not require a re-application.
While the coating is effective for up to 5 years on the side windows of a car, this test confirmed that quite an extensive service life can be achieved on windscreens also. Nanovations, with its high-tech "Vision Protect' is the first windscreen coating manufacturer that has undertaken such a harsh test, simulating real life situations. Driving in bad weather is now safer than ever, because the coating is set on your windscreen when you need it most, long after it has been applied. It not only improves night vision and wet weather visibility as good as, or better than conventional products, but adds to the durability segment as well.
'Vision Protect' Properties
The company spokesperson said today that "in addition to the UV resistance, 'Vision Protect' is also scratch-resistant and chemical-resistant, and there are two additional properties, any competitor will find it challenging, if not unmanageable, to equal."
To find out more about 'Vision Protect' please visit Nanovations website , http://www.nanovations.com.au