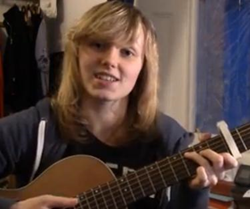 (PRWEB) March 22, 2014
"The first thing to mention about this song is that if you want to play along with the CD they do not use a Capo on the 4th fret", says Norman, "I only use it because that's the key I can sing it in". Beth also mentions that the song is double drop D tuning which is that the first and 6th strings are both tuned down one whole step to D. Next Beth explains what chords will be used in this easy guitar lesson as; Bm7+3 (B minor 7 augmented 3), Bm9+3 (B minor 9 augmented 3), G5, Dadd11, D, Dsus2 and Asus4. Next Beth explains that the song is in ¾ time and that means only three beats per measure instead of four. She demonstrates the strumming for this as down-down-down-up (1-2-3-&) and that this strumming pattern will be played once on each chord for the entire duration of the song. Beth continues this easy guitar lesson by explaining the chord sequences for all of the parts of the song and by performing the song. Complete chord charts and guitar TAB's are available at SongTabs.com.
A Capo, short for capotasto, which is Italian for "head of fret board", is a device used on the neck of a fretted instrument to shorten the playable length and raise the pitch.
The Goo Goo Dolls are an American rock band from Buffalo New York in 1986. Although the band has several popular singles over their career, nothing as notable as their song Iris which was ranked number one on Billboards top 100 rock songs 1992-2012 chart and spent 12 straight weeks on the charts. The Goo Goo Dolls have had 14 top ten singles on various charts and have sold over 10 million albums world wide to date.
Beth Norman
Started playing the guitar at the age of 15 and started her first band only after 3 months of playing. She put up her first YouTube tutorial video in 2009 and has gained 40,000 subscribers and over 8 million views and counting.
About SongTabs.com
SongTabs.com is a great online resource for learning to easily play your favorite songs on the guitar. With several great instructors and a constant growing catalog of songs, everyone can learn to play there favorite songs.