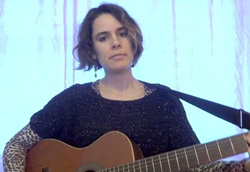 (PRWEB) March 23, 2014
Maria starts off this easy acoustic guitar lesson that originally is played on a mandolin, by explaining the easy open position guitar chords that she uses as; Am, Em, Dm, G, F, C and D. Next Maria explains the strumming as Down-Down-Up-Up-Down, which is counted as one-two-and-three-four. "There is also a really cool intro to this song that I will slow right down for you", says Lua. She demonstrates this intro as follows; 4th string played open followed by 2nd fret with 2nd finger, then back to open and then 5th string open, followed by the F chord and then the same single note sequence is repeated and the chord at the end is switched from F to Am. This intro sequence is counted as one and two and three (for the single notes) and then for the chords she uses the strum that she explained earlier in the lesson. This entire sequence is repeated twice to complete the intro to the song. Maria continues this easy acoustic guitar lesson by performing the whole song so you can see and hear just how it is played. Chord charts and Guitar TAB's are available for this video guitar lesson at SongTabs.com.
R.E.M. was an American Alternative Rock band formed in 1980 in Athens Georgia. They released their first single in 1981 and had massive commercial success throughout their career until disbanding in 2011. Over the span of their career they released 15 albums and have sold over 15 million albums world wide. They were nominated for seven Grammy Awards and were awarded three and they were inducted into the Rock and Roll Hall of Fame in 2007.
Maria Lua:
Is a folk inspired singer, songwriter, musician and performer, using melody and lyrics to uplift and motivate her audience. At the end of 2012 Maria and her band descended on professional recording studio Shrunken Heads Studios to record 4 songs for her upcoming E.P. "Free Spirit".
About SongTabs.com:
SongTabs.com is a great online resource for learning to easily play your favorite songs on the guitar. With several great instructors and a constant growing catalog of songs, everyone can learn to play their favorite songs.