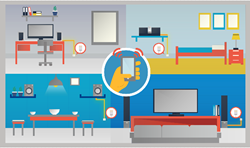 Moxivo is a no brainer; you have the phone line, why not use it?
Boise, ID (PRWEB) April 15, 2014
Unlike wireless audio systems, Moxivo is compatible with traditional speakers and stereos. With Moxivo, there's no need to replace the speakers and stereos in a home. This provides a vast savings over wireless audio systems and brings multiroom sound within reach of the common consumer.
Each Moxivo cable is a cross between a common audio cable and a phone cable. Connect an audio source to any number of self-powered speakers and stereos through the phone lines.
Intellegg's Moxivo multiroom audio system is perfect for internet radio. Play music from a computer or laptop and use a mobile device as a remote control using free apps like "Remote" or "Retune".
In this age of cell phones and email, the use of land lines and fax machines is dwindling into obsolescence. Intellegg's Moxivo multiroom audio system restores wired phone lines to their original status as a valuable asset.
Press Kit
Website
Indiegogo Campaign
editor's Note: To request product samples or an interview with Jeff Eggebraaten, founder of Intellegg, email jeffeggebraaten(at)intellegg(dot)com.