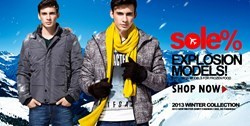 (PRWEB) March 23, 2014
Skmen.com, China's well-known clothing manufacturer and retailer, has lately released its new selection of long sleeve shirts for women for the global market. These comfortable shirts are very reasonably priced, and all of them are carefully made with superb quality fabrics.
True enough, Skmen.com has become a popular supplier in the global market; its aim is to make fashionable clothes that can enhance the natural grace of ladies of all sizes. The company employs designers and workers with significant expertise in the fashion field; that is why it can always implement new ways to better serve old and new customers.
The company's long sleeve shirts for women are very modern. More importantly, they are now all available at discounted prices, up to 40% off. The launch of the big sale is based on its clients requesting it. It will come to an end on April 15, 2014.
"We are excited to launch the special offer on our long sleeve shirts. We want to help worldwide ladies get fashionable attires in a more economical way. All our products are carefully made for customers who are looking for exquisite styling. Those who are planning to purchase inexpensive shirts should seize the great chance," the sales manager of the company says.
About Skmen.com
Skmen.com, a China-based company founded in 2009, is one of the leading suppliers of men's and women's high quality clothes. It has more than 5000 customers from every part of the world; it hopes to help worldwide stylish ladies and gentlemen. For more detailed information about the company and its wonderful items, readers can visit http://www.skmen.com/product-long-sleeve-t-shirts-003009006.aspx.