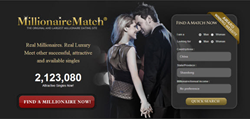 Los Angeles (PRWEB) March 25, 2014
It's been said that age is mind over matter and if people don't mind, it doesn't matter. That may be true for men who desire younger women but what about when the women desire a younger man?
That was the hot topic in March for MillionaireMatch.com. "Is it ever acceptable for a woman to look for a younger man?" Is love really blind when it comes to age? Prevailing customs find it perfectly acceptable for a man of any age to desire young women when they are searching for appropriate mates, just someone to date or whatever they are searching for. On the other hand prevailing customs in different societies can frown upon the same for an older woman and younger man, think Demi Moore and Ashton Kutcher
It's rarely a head turner when people see a man with a 20-year younger woman on his arm, but if a woman has a significantly younger man escorting her about the town she is called a cougar, heads turn and the whispers begin.
Even on the myriad of dating sites out there, whenever a "suggested" match is supplied the men invariably are about the same age of the woman and upwards to 10 years her senior, or more. Rarely if ever is a match made with an older woman and a younger man. So what exactly are the acceptable age brackets for a woman in search? MillionaireMatch members give their own opinions about this topic:
Close to 86% of members approve of a woman looking for a younger man. They think there should be no restrictions on society's acceptance of older women and younger men. "Love has no age limits," said one male member of MillionaireMatch.
However, there are still 14.63% members who are against it.