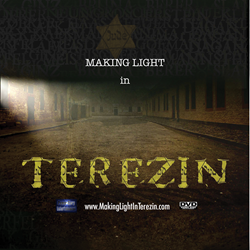 "Moving... Miraculous... Life Altering... Making Light in Terezin shines in the face of Nazi terror." - Sandi Kahn Shelton, The New Haven Register
Los Angeles, CA (PRWEB) March 25, 2014
The 87-minute long documentary is the culmination of two years of work by Krevolin. For 10 days in 2011, he lived in the Terezin ghetto outside of Prague (in the Czech Republic) where he directed the key scenes in "Making Light in Terezin."
About his approach, Krevolin says, "First, I wanted to tell the story of the discovery of a Czech Cabaret that was created and performed only once in an attic 'theater' in Terezin in 1943, and then presented there again by a company of American actors almost 70 years later. Second, I wanted to tell the story of survivors who still remain in Prague and how the cabaret helped them to endure. And third, as the narrator of the film, I wanted to tell my own story…how I initially questioned the value of being a comedy writer, but after going to Terezin and talking to the survivors I was transformed by the inherent value, power and unquestionable importance of comedy and the arts in people's lives."
Instead of focusing on the horrors of the Holocaust, this film, like the Academy Award winning short, "The Lady in Number 6" (which tells of the life of Terezin survivor Alice Herz-Sommer) offers another perspective – it's a celebration of the creative artistic spirit that was alive in the prisoners of Terezin in 1943 despite the atrocities of war. It is a story of survival, of the triumph of the human spirit, of art vs. death.
As Rabbi Irwin Kula writes in the introduction to the companion book to the film, "We divide the world between victims who went passively to their deaths and those who ... courageously fought and killed the enemy. But in learning about the artists and musicians and playwrights and comics of Terezin who created a vibrant cultural life, a comedic cabaret, a living theatre in the midst of the Kingdom of Night ... our understanding of the very meaning of resistance and courage is transformed."
Writer, director and producer, Krevolin is available for interviews from now until April 25th. And the trailer for the film can be seen at https://www.youtube.com/watch?v=I_OUvw4v64g.
About Richard Krevolin
In addition to writing, directing and producing "Making Light in Terezin," Krevolin is also the author of many best-selling non-fiction books on writing as well as several novels. He lectures on film and writing around the world and more info about him can be found at ProfK.com.