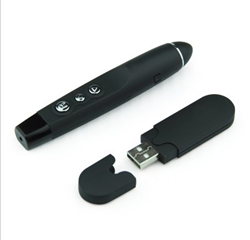 (PRWEB) March 22, 2014
Hiconn Electronics is a world leading electronics accessories wholesaler from China. Recently, the company has unveiled its new range of Computer Laser Pens. Now, worldwide distributors can order handy laser pens at the company's online shop. In addition, those who place an order before the end of March can get a discounted price, up to 30% off.
The Computer Laser Pens offered by the company are very useful for teaching, meeting and many other formal occasions. They are light and handy, so anyone can use them conveniently. These brand new pens are specially designed to meet the huge demand in the market. Each item is featured with nice look and secure materials.
The additional information about the company's Computer Laser Pens is as follows:
•Remote technology: infrared ray technology
•USB plug & play! Laser pointer & page up/down function. No driver requested.
•Control distance: over 15m
•Supports Windows98/2000/ME/XP/VISTA/7/8 system.
•Laser distance: over 200m
•Mini design
"We are glad to release our new designs of Computer Laser Pens. They are all made from durable and safe materials. I am sure these new pens can add convenience for worldwide people. For those who are looking for cheap electronics accessories, it is wise to visit our online store," a senior spokesman for the company says.
About Hiconn Electronics
Hiconn Electronics (Shenzhen Hiconn Electronics Co. Ltd.) is devoted to designing and manufacturing a wide range of connection cables and customized cable assemblies, offering many HDMI cables, VGA cables, SATA cables, USB cables, 1394 cables, DVI cables, SCSI (Small Computer System Interface) and more. For more information, please visit http://www.hiconn.net/.
Contact Person: James Yin (Sales Director)
Company Name: Shenzhen Hiconn Electronics Co., Ltd.
Address: Shenghua Building., Xixiang Road., Baoan District, Shenzhen, Guangdong Province, China
Zip Code: 518102
Tel: +86-755-8109 8345
Fax:+86-755-2779 3497