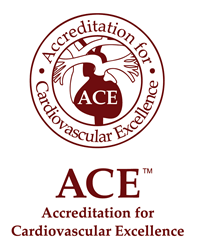 We invite [everyone] interested in achieving high quality and excellence in their cath labs to stop by the ACE booth and take the Quality Challenge. - Gregory J. Dehmer, MDACE Board Chair
Washington, DC (PRWEB) March 24, 2014
Meeting schedules can change at the last minute, so visit representatives from Accreditation for Cardiovascular Excellence (ACE) at NCDR (March 27-28th, Omni Shoreham Hotel Exhibit Hall) and ACC's 63rd Annual Scientific Session and Expo at the Walter E. Washington Convention Center, Washington DC (March 29-31st, booth #1660), to ask questions about quality sessions and how to take the Quality Challenge with ACE.
"We invite physicians, lab managers and staff who are interested in achieving high quality and excellence in their cath labs to stop by the ACE booth and take the Quality Challenge. This is an opportunity to benefit from ACE's extensive expertise to assure your cardiovascular program achieves excellent outcomes," says Gregory J. Dehmer, M.D., FACC, FACP, FAHA, FSCAI and ACE Board Chair.
NCDR Quality Sessions
Thursday, March 27, 2014 -3:35 PM:

Case Scenarios Using Data Elements Pertaining to AUC Criteria
Friday, March 28, 2014

10:35 AM: Using Data to Drive Improvements, Building Your Effective Cardiovascular Quality Team
2:29 PM: High- and Low-Performing PCI Hospitals in 2013: Insights from Top PCI Hospitals
ACC Quality Sessions
Saturday, March 29, 2014, 4:45 PM
o Session 639: Not Just for Coders: How ICD-10 Will Affect Clinicians and the Practice of Medicine
Monday, March 31, 2014, 8:00 AM
o Session 684: MOC Part IV: An 8-Step Approach to Involving Your Team in Performance Improvement
Monday, March 31, 2014, 10:45 AM
o Session 313 - Team Based Care Models: Are There Successful Models with Quality Data and a Positive Bottom Line?
When planning your schedule, look for Special Topics, one of the meeting's 14 learning pathways. The Special Topics pathway includes sessions with a broader focus beyond traditional educational specialties, including sessions on quality.
About Accreditation for Cardiovascular Excellence (ACE)
ACE, an independent organization sponsored by the Society for Cardiovascular Angiography and Interventions (SCAI) and the American College of Cardiology Foundation (ACCF), offers independent evaluation and monitoring of facilities that provide cardiovascular care. By reviewing facility and operator performance and comparing clinical decision-making to nationally accepted best practices; ACE quality review and accreditation services play a critical role in continuous quality improvement programs. Learn more at http://www.cvexcel.org.