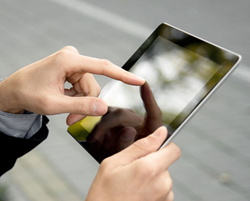 Len was incredibly constructive; he made it easy for me to ask questions and always provided simple and elegant solutions.
Markham Ontario Canada (PRWEB) March 25, 2014
With hundreds of millions of smart phone users accessing the internet with their internet-enabled devices, it begs the question; when redeveloping the company website to accommodate mobile internet users, should the site be made "responsive" or "mobile"?
Len Doren of In Front Media, a Web Design company in Markham, Ontario, offers this; "All of the websites we develop for our clients today are geared towards a balance of desktop and mobile needs." Len goes on to add, "The differences between "mobile" and "responsive" design can be close or miles apart. It really depends on the project, and the client requirements. The question we asked ourselves a couple of years back, is should we offer clients a strictly mobile site design or a responsive website design- or both?"
Each design standard offers benefits - but also has drawbacks too. Deciding which type of design to go with for the company website is not an easy decision to make. To help business owners decide which direction to take, IFM offers the following advice to help make that decision less stressful.
Both mobile and responsive designs can render well on a smart phone screen. Mobile design is created specifically for that range of small-device screens while responsive designed sites render based on the screen size (desktop, tablet, smart phone).
Winner: none
Existing Backlinks
A domain's link profile is made up of hyperlinks on various site pages on the internet, which point back to the company website pages. If a domain's link profile has been carefully developed and nurtured over the years, having a responsive site redesign doesn't really change much in terms of one's domain link profile. The existing backlinks links can still point to that original domain without issue. A secondary mobile site, however, would require a different domain, and as such, would also require a separate link profile. Building a new link profile will take a lot of time and resources.
Winner: Responsive Design
Maintenance
With a responsive design, changes are easy and made only once. With a mobile and a standard desktop site, companies must make changes to both sites which is extra time and cost.
Winner: Responsive Design
Page Loading Speed
Google likes fast loading web pages. That said, a mobile site will typically load faster than a responsive designed site. Google, however has given the "thumbs up" for responsive design because one would assume that they only have to "crawl" one site.
Winner: Mobile Design (slight advantage)
Cost
In terms of cost, the answer isn't as straight forward as it may seem. Most businesses have an existing desktop website. If that site is new, building a mobile site can be less cost than building a responsive site. That said, most websites that are 2-3 years old are actually due to be redesigned soon anyway, so it would then be less costly to build one responsive design site vs a desktop and a mobile site.
Winner: Responsive Design (slight advantage)
These are only a few important pointers to think about when considering a redesign for the company website. IFM recommends speaking to local website design companies to get the right solution for each individual scenario.
IFM Web Services offers Responsive Web Design, website analysis, SEO Press releases, Search Optimization and Facebook pages for businesses. Located in the Toronto area (GTA), IFM has helped business achieve an effective online presence and has helped clients as far away as Bermuda and Mexico. For more on Social Media, SEO or Web Design for businesses, visit IFM at http://www.ifmdesigns.ca.