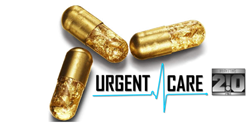 Marketed correctly, local urgent care clinics have the advantage in a social connected environment.
(PRWEB) March 22, 2014
Welcome to the Urgent Care "Gold Rush"! Everyone wants in on it! As of last March, there were over 8,000 Urgent Care Clinics in the US with an estimated 8 to 10 percent growth annually, according to the Urgent Care Association of America! Here are the different types of players in the game:
Nonprofit Health Systems
Most of the 8,000 are made up of these centers like Aurora Health in WI with 37 locations and Intermountain Healthcare of UT with 25 locations. These types of locations were the example given by President Obama in his debates that led to the Affordable Care Act (low cost and high quality medical care). Although as a collective, they have the most locations, they do not have the largest Urgent Care company. This belongs to the private sector.
Investor-Owned, Private Equity, For-Profit
Let's start with the big dog. In 2010, the insurance juggernaut Humana (HUM) purchased Concentra, the nations largest provider of occupational health care services and Urgent Care with more than 340 locations. It was also rumored that Wellpoint (WLP) may also be looking at this path considering their new CEO, Joseph Swedish, has en extensive hospital/outpatient care background. Later that year, it was confirmed when Wellpoint along with LLR acquired Physicians Immediate Care, a strong platform with density around a major metropolitan market in Chicago.
The other for-profits in the game are the "Big Box" Pharmacies. Walmart (WMT), Walgreen (WAG), CVS (CVS) and the like have been pushing their version of Urgent Care. The number of locations that offer such services in now over 400 for Walgreens.
The smallest segment in this group is the local private chains or standalones. These locations are in the heart of our communities mixed in with all of the above. The one major difference, aside from the level of services offered, is the money backing them and the national branding. That means that when it comes to marketing, the local companies will need to take advantage of all the possible avenues for success. In our dealings with Urgent Care Marketing, we have learned that it is not always beneficial to be the biggest. When you are the biggest it is easy to miss the smaller things that add up, like how to market locally and not just rely on nation branding and advertising. These are some of the most impactful areas for marketing and the bigger companies miss them 9 times out of 10. How well are you doing to leverage what the bigger companies miss? Let us take a look and give you a complementary analysis. Click here to get started!
You can read the full article on our website - http://www.urgentcare2point0.com/urgent-care-business-continues-to-boom/.