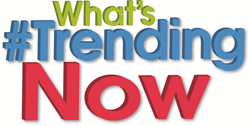 Spring is a new season, which means a fresh start! It's the perfect time to clean, organize, and declutter and if you have the right tools, you can tackle any job!"
West Palm Beach, FL (PRWEB) March 24, 2014
With the start of spring comes the desire to shed the heaviness of winter. Many around the country are more than ready for a fresh and clean feeling again while wanting the home to feel light and airy. Don't know where to start? Lifestyle and trends expert, Justine Santaniello, showcased five ideas and products that will help whip your home into shape and organize your life's tech!
For the segments, Santaniello, a regular featured guest on television shows across the United States, covered some top tips for spring cleaning during a satellite media tour on March 20th, the first day of spring, for News Media Group and their What's #Trending Now website at http://www.InTheNews.TV.
"Spring is a new season which means a fresh start! It's the perfect time to clean, organize, and declutter," said Santaniello. "Make a point to change out filters in your vents, throw away expired items in your pantry and fridge, replace batteries, and get your paperwork in order. Since we rely on our tech devices, I recommend reviewing your cell phone plans and clearing out old and junk files on your smart devices as well. Take it one step at a time! Devote a day to certain jobs and another to the rest. Break up rooms into chunks of time so you aren't overwhelmed and make sure to check out all the new and exciting products out there that can help you! I always say if you have the right tools, you can tackle any job!"
In the segments, Santaniello shared on the following expert advice:
Take a look at cell phone plans. Just in time for spring, TracFone is offering a great way to clean up the cell phone bill to save money this year. TracFone, one of America's largest no-contract cellphone service providers, is offering Android smartphone plans with talk, text and data for as low as $7 a month and right now, for a limited time, save $50 on Android smartphones like the Samsung Galaxy Centura at top retailers including Target and RadioShack. TracFone's Android plans offer nationwide coverage on America's largest and most dependable networks. Also, keep (carryover) any unused data, minutes and texts for as long as service is active. Visit http://www.tracfone.com for more information.
Clean inside tech devices. With more than 100 million installs and a 4.7/5.0 review on Google Play, KS Mobile's Clean Master is the best choice to clean and organize Android smartphones and tablets. Clean Master makes sure smartphones are like new by removing old and junk files, and killing off buggy apps that take up too much memory. Plus, the app also locates and removes privacy information on the devices, and helps protect from any mobile viruses. Visit or download Clean Master at http://www.ksmobile.com and have Android devices acting like new again.
A better way to clean floors. The Dyson DC65 Animal is engineered for outstanding cleaning performance and ease of use. With a self-adjusting cleaner head and re-engineered brush bar, bristles dig deeper into carpets to remove more dust and dirt, while still providing superior performance on hard floors. DC65 is built to achieve the highest suction at the cleaner head – twice the suction of any other vacuum – and its remodeled cyclones are able to spin out more microscopic dust and allergens from the home. It features Dyson's patented Ball™ technology, and comes with the Tangle-free Turbine tool to remove dirt and hair from carpets and upholstery without tangling. Cleans better than any other vacuum across carpets and hard floors. Visit http://www.dyson.com for more information.
A better way to clean the toilet. Cleaning the toilet is the most disliked cleaning task in America. Scrubbing Bubbles® Fresh Brush® Starter Kit and Caddy has a new and improved formula that eliminates odors, removes limescale and cleans under the rim and below the water, making the most disliked task, sanitary and simple. It is the only toilet cleaning system with different cleaning pads to tackle both tough stains and everyday cleaning. Visit http://www.scrubbingbubbles.com for more information.
Laundry just got easier. LG put a modern spin on the traditional top load washer design. By moving the control panel from the back to the front, the buttons and LED display are easier to read and use. This simple change makes for a more intuitive and functional design and a look that is unlike anything users have seen. This ENERGY STAR® qualified washer also incorporates LG's innovative TurboWash™ technology which allows users to save 20 minutes per load, even with larger loads of laundry, while still offering outstanding cleaning performance. With a mega-capacity of 5.0 cubic feet, this washer also allows users to do more laundry in fewer loads. Visit http://www.LG.com for more information.
Visit http://www.InTheNews.TV for more about this spring cleaning segment and other cool trending stories and ideas.
About News Media Group, Inc.:
News Media Group, Inc. (NMG) is a leading producer of Satellite Media Tours and Ground Media Tours that fit the media calendar for TV and radio stations throughout the year. NMG produces segments about the latest technology products and applications coming to market for the consumer and their KillerApps.TV website is the destination for original programming on the hottest new technology and trends. Additionally, NMG produces the "What's #Trending Now" web series through wtnshow.com and InTheNews.TV sites about the latest consumer news and trends. To learn more, please visit http://www.newsmg.com.
Contact:
News Media Group, Inc.
Karl Wayne
Executive Producer
karl(at)newsmg(dot)com