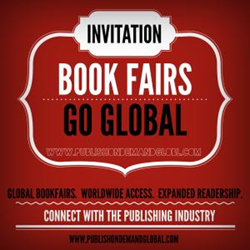 Today, every author seems to sell their content on the same slew of platforms... But what if you were one of the first to sell your ebook online to two of the largest mobile/e-reading societies on the planet? - Kait Neese, Managing Director, PODG
(PRWEB) March 24, 2014
Out of the 2.4 billion Internet users in the world, 1.5 billion use their mobile devices to access the Internet. Users spend an average of 82 minutes per day on their mobile devices, not including voice phone calls. With the recent increase in digital publishing, consumers are using mobile devices now more than ever to view reading material.
Publish on Demand Global (PODG), has recently announced that they have established the largest and most extensive digital distribution network made available for self-published authors looking to enter emerging markets. Through PODG's global distribution network authors are able to get direct access to over 5oo mm potential mobile readers in China and India for their English titles.
Kait Neese, Managing Director of PODG, said "Today every author or publisher seems to sell their content on the same slew of platforms: Amazon, Barnes & Nobles, iTunes and Google. But what if you were one of the first to sell your ebook online to two of the largest mobile/e-reading societies on the planet? That is when it gets mind-blowing."
Furthermore, Shaina Wizov, Communications Director for PODG, said "active mobile readers in China surpassed 470 million in the third quarter of 2013. India has more than 160 million Internet users with 86% accessing the Internet through mobile devices. The population size from these stats alone represent more than the entire US market. What is even better is that there is astronomical demand for English content right now in these foreign markets."
Publish on Demand Global's aim is to provide every self-published author with the opportunity to tap into these potentially thriving new markets and gain new reader exposure for their content. The PODG team's mantra is that no author or publisher should be denied global access due to the fact they are smaller than the larger, more traditionally funded publishing houses. Equal opportunity for all they say.
PODG has partnered with leading mobile e-commerce platforms in India such as Flipkart, Handygo, Infibeam, Bookadda and Studdybuddy. In China they have formed direct partnerships with the Chinese censorship agencies allowing all titles they distribute to be reviewed and approved within 60 days for import into the country.
Conclusion? Distribution doesn't have to be hard and PODG is aiming to make the "going global" process as easy as possible for their authors and clients.
ABOUT: Publish On Demand Global, through its partners and affiliates, currently provides services to approximately 10,000 authors and publishers around the world. We help authors and publishers penetrate other markets globally in print books, ebooks, mobile books and tablet books. We reach into 50 sales channels that are NOT covered by Ingram and Amazon (and any other Western company to the best of our knowledge).
Contact: Kait(at)PublishOnDemandGlobal(dot)com