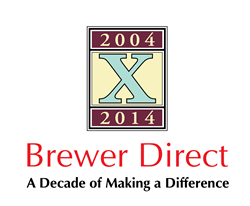 All great fundraisers have a heart for the programs stemming from their efforts and Chris is no exception. - Agency President & CEO Randy Brewer.
Los Angeles, CA (PRWEB) March 24, 2014
After spending 25 years raising millions of dollars for nonprofit causes as chief executive and development officer, Christopher Doyle is taking his fundraising acumen to the agency world. The veteran fundraiser has been named VP/Client Services for Brewer Direct, the LA-based direct response fundraising firm representing numerous faith-based and social service organizations across the United States.
Mr. Doyle will oversee all account management functions at the agency, including strategic planning, campaign development, implementation, analytics and client services. He will also team with Agency President and CEO Randy Brewer to support new business development efforts.
The South Carolina native comes to Brewer Direct after serving as Executive Director of Development for the Salvation Army's Southern California Division, the largest in the charity's Western U.S. Territory. His managerial responsibilities across a five-county region encompassed all fundraising operations, including direct response marketing, PR, communications, online marketing, grants, major gifts and planned giving.
The Salvation Army post followed executive management positions focused on international fundraising. He served as COO and Chief Development Officer at Lincoln, Nebraska-based Kingdom's Harvest International and, later, as Executive Director and Development Officer for African Enterprise in Monrovia, California.
Mr. Doyle's longest-tenured senior management position occurred as President/CEO and Chief Development Officer for American Leprosy Missions, headquartered in Greenville, South Carolina. During a 16-year span in which he traveled across the globe to coordinate with local partner agencies and government ministries, his fundraising efforts helped support more than 100 projects in 13 countries.
"All great fundraisers have a heart for the programs stemming from their efforts and Chris is no exception," said Randy Brewer. "He has exceptional leadership skills and a highly collaborative management style. We are delighted to welcome him aboard and look forward to the many contributions he will make to our continued growth."
Company Information
Based in Los Angeles, Brewer Direct (http://www.brewerdirect.com) is a results-driven, full-service direct marketing and fundraising consultancy serving nonprofit organizations across the United States. Clients include numerous faith-based Rescue Missions, Catholic Charities, as well as other social service organizations. The firm, which this year celebrates its 10th anniversary, was founded by direct response marketing veteran Randy Brewer, whose career spans more than 25 years at some of America's largest and most respected nonprofit organizations, agencies and advertisers. He leads a team of 20-plus professionals that collectively bring more than 100 years of fundraising and development experience to the agency's national client roster.