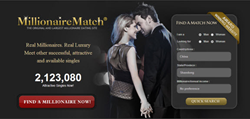 Los Angeles (PRWEB) March 26, 2014
For some driving a super luxury car is only a dream. For millionaire men their dreams come true every day. MillionaireMatch male members, who are always full of energy and passion, love their cars almost as much as loving their women. In the third week of March they rate the 2014 top three super luxury cars they like most. MillionaireMatch provides ten super luxury cars for these male members to rank the cars ranging from Porsche Panamera to Hyundai Equus.
Not surprising, Mercedes –Benz S-Class comes in the first place with 32.73% of votes. Mercedes-Benz S-Class has six different engines, ranging from a turbo diesel V6 in the S350 Bluetec all the way up to a twin-turbo V12 in the high-performance S65 AMG. From outfit to inner machine system, this driving machine receives excellent comments from MillionaireMatch members. "It is full of power." "Seats are very comfortable."
Coming in second place is Jaguar F-Type with 29.49% of votes. This super sports car has a good look with streamlined style. Its supercharged V6 siblings can get 37bhp, rise to 376bhp in the V6 S and end with an impressive 542bhp in V8 form. "An F-type overtook me a few days ago and my jaw dropped," says one of Jaguar's fans on MillioanireMatch.
The last in top three cars is Cadillac CTS with 22.37% of votes. The car with 556 HP V8 engine can read the road up to 1,000 times per second. Its aggressive appearance looks fantastic.