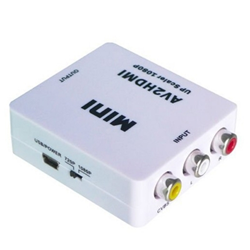 (PRWEB) March 23, 2014
Recently, Hiconn Electronics, China's leading China electronics accessory supplier, has happily unveiled its new selection of CVBS TO HDMI Converters. Moreover, the company has also announced big discounts on these useful converters; all these new products are now available at low rates, up to 30% off. According to the sales manager of the company, the promotion will end on April 10, 2014.
"We are proud to launch the special offer on our newly released CVBS TO HDMI Converters. We want to expand our market share, and I think we can make it. As you know, more and more people like to buy things online now. At our website, worldwide distributors don't need to pay a barrel of money to get what they need," he says.
Some additional information about the CVBS TO HDMI Converters offered by the company is as follows:
--One AV Signal input
--R/L audio signal input
--One HDMI Signal output
--HDMI signal 720p/60HZ output
--Adaptive PAL / NTSC standard.
--Status Led Light-when signal source or signal end is working, the related Led light will go bright.
--Easy to install and can be installed well in two minutes.
--Need DC5V/1A power supply
As a matter of fact, Hiconn Electronics is one of the most reliable supplier in the world. Its electronics accessories are of top quality. Besides CVBS TO HDMI Converters, the company offers a lot of excellent items for worldwide clients.
About Hiconn Electronics
Hiconn Electronics (Shenzhen Hiconn Electronics Co. Ltd.) is devoted to designing and manufacturing a wide range of connection cables and customized cable assemblies, offering many HDMI cables, VGA cables, SATA cables, USB cables, 1394 cables, DVI cables, SCSI (Small Computer System Interface) and more. For more information, please visit http://www.hiconn.net/.
Contact Person: James Yin (Sales Director)
Company Name: Shenzhen Hiconn Electronics Co., Ltd.
Address: Shenghua Building., Xixiang Road., Baoan District, Shenzhen, Guangdong Province, China
Zip Code: 518102
Tel: +86-755-8109 8345
Fax:+86-755-2779 3497