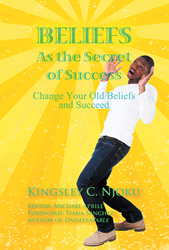 "A Christian look at what success really means."
(PRWEB) March 24, 2014
A poor Christian man learns important life lessons in the uplifting novel Beliefs As the Secret of Success- Change Your Old Beliefs and Succeed.
The poor man wanted to discover why only a few ever become rich. He meets a rich man who is not only pious, but loving, kind, and humble. This makes the poor man think differently about rich people! The rich man taught the poor one everything he needed to know to live a fulfilled life. He taught him that it is a blessing from the Lord that makes one rich. He taught him that men must change their mental attitude toward people and money. But above all, he taught him that money is only a servant, meant to serve a purpose.
The poor man was so transformed that he became rich himself, and he also becomes an evangelist, spreading the good news to others. The power of the lord can move mountains.
BELIEFS AS THE SECRET OF SUCCESS: CHANGE YOUR OLD BELIEFS AND SUCCEED (ISBN: 978-1-61897-757-1) is now available for $17.50 and can be ordered through the publisher's website:
http://sbpra.com/kingsleycnjoku or at www(dot)amazon(dot)com or www(dot)barnesandnoble(dot)com.
WHOLESALERS: This book is distributed by Ingram Books and other wholesale distributors. Contact your representative with the ISBN for purchase. Wholesale purchase for retailers, universities, libraries, and other organizations is also available through the publisher; please email bookorder(at)aeg-online-store(dot)com.
About the Author: Upon completing a law degree at the University of Kent in Canterbury, England, Kingsley C. Njoku, a Nigerian, found himself far from home and facing a crossroads. He stumbled upon a centuries-old secret that brought him courage. He discovered the power of positive thinking and faith.
Strategic Book Publishing and Rights Co, LLC
http://www.AuthorMarketingIdeas.com
http://www.PublishOnDemandGlobal.com
http://www.StrategicBookClub.com