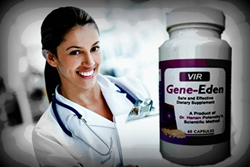 Anyone who has ever had chickenpox can develop Shingles. Since Shingles can be dangerous, we recommend that individuals talk to their doctors about Gene-Eden-VIR. - Mike Evans, polyDNA
Rochester, NY (PRWEB) March 24, 2014
There is evidence that a Shingles outbreak (caused by the varicella zoster virus) can occur in healthy individuals with a normal immune system. When it does, VZV can attack and cause a condition known as cervical zoster, or cervical myelitis (1). Cervical myelitis is "a neurological disorder caused by inflammation across both sides of one level, or segment, of the spinal cord… Nerves in the cervical (neck) region control signals to the neck, arms, hands, and muscles of breathing (the diaphragm)… Attacks of inflammation can damage or destroy myelin, the fatty insulating substance that covers nerve cell fibers. This damage causes nervous system scars that interrupt communications between the nerves in the spinal cord and the rest of the body." (See The National Institute of Neurological Disorders and Stroke, Last updated January 28, 2014) (2). When communication between nerves is seriously interrupted, paralysis can occur. polyDNA recommends that individuals concerned about Shingles outbreaks speak to their doctors about Gene-Eden-VIR. This natural antiviral was proven to reduce viral symptoms in a post-marketing clinical study that followed FDA guidelines.
Shingles can sometimes cause cervical myelitis even in healthy individuals. For example, doctors described a, "case of HZ myelitis of the cervical spinal cord in a 35-year-old woman who was immunocompetent. Cervical myelitis developed 1 month after the eruption of vesicles. Pure sensation loss was limited initially from the C2 to T1 dermatomes, but later progressed to lower limb sensory loss." (See the Journal of the Chinese Medical Association, from November 2010) (3). Because of this, "early medical intervention is necessary for better and earlier recovery (3)."
Myelitis associated with Shingles can "include a loss of spinal cord function over several hours to several weeks. What usually begins as a sudden onset of lower back pain, muscle weakness, or abnormal sensations in the toes and feet can rapidly progress to more severe symptoms, including paralysis, urinary retention, and loss of bowel control. Although some patients recover from transverse myelitis with minor or no residual problems, others suffer permanent impairments that affect their ability to perform ordinary tasks of daily living (2)."
"Varicella zoster virus (VZV) infection, which causes chickenpox and herpes zoster (HZ), is not uncommon in the general population. Varicella zoster virus can be latent in cranial nerve or dorsal root ganglia, and reactivate several decades later (3)."
"Anyone who has ever had chickenpox can develop Shingles. Since Shingles can be dangerous, we recommend that individuals talk to their doctors about Gene-Eden-VIR." - Mike Evans, polyDNA
A recent post marketing clinical study published in the peer reviewed, medical journal Pharmacology & Pharmacy, in a special edition on Advances in Antiviral Drugs on August 12, 2013 showed that Gene-Eden-VIR is safe and effective (4). Additionally, up to 70% of those studied reported a decrease in viral symptoms (4).
Each ingredient of Gene-Eden-VIR was chosen through a scientific approach. Scientists scanned thousands of scientific and medical papers published in various medical and scientific journals around the world to identify the safest, most effective natural ingredients that target latent viruses (4).
To learn more about Gene-Eden-VIR, visit http://gene-eden-kill-virus.com/ All orders of Gene-Eden-VIR are completely confidential, and no information is shared or sold to any third party. Privacy is assured.
References:
(1) Mumps, cervical zoster, and facial paralysis: coincidence or association? Published in 2014.
http://www.ncbi.nlm.nih.gov/pubmed/24653846
(2) National Institute of Neurological Disorders and Stroke. Last Updated on January 28, 2014.
http://www.ninds.nih.gov/disorders/transversemyelitis/detail_transversemyelitis.htm
(3) Herpes zoster cervical myelitis in a young adult. Published in November 2010.
http://www.ncbi.nlm.nih.gov/pubmed/21093831
(4) Gene-Eden-VIR Is Antiviral: Results of a Post Marketing Clinical Study. Published in September, 2013.
http://gene-eden-kill-virus.com/PP_Gene-Eden-VIR-is-Antiviral.pdf
polyDNA is a biotechnology company that develops dietary supplements using the unique scientific method developed by Dr. Hanan Polansky, which is based on Computer Intuition.
In addition to his unique scientific method, Dr. Polansky published the highly acclaimed scientific discovery, called Microcompetition with Foreign DNA. The discovery explains how foreign DNA fragments, and specifically, DNA of latent viruses, cause most major diseases.
polyDNA developed Gene-Eden-VIR , an antiviral natural remedy that helps the immune system kill latent viruses.